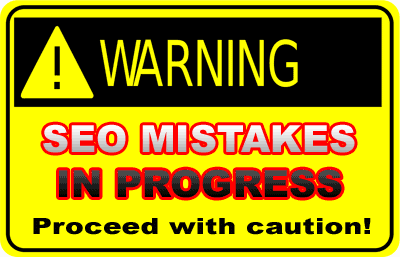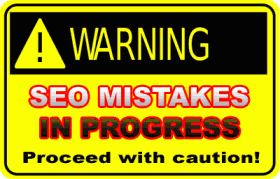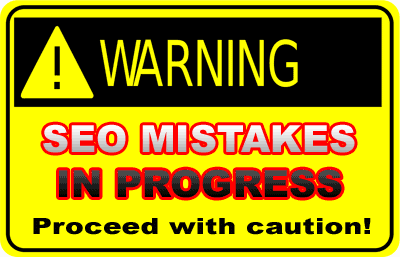 SEO can be defined as the set of methods that are focused towards improving the search engine standings of a website. You might be thinking that what is the need of knowing such a basic thing and you have worked hard to find out how to get a high rank for your website. You are all pumped up to apply all that you have learned over the internet to your website. But let me warn you that SEO may seem relatively simple but it is a minefield and sometimes even the professionals tend to get off the track with slightest of mistakes. In this article we are going to discuss some common web SEO mistakes that most of the webmasters commit and it will help you to avoid this type of mistakes.
1. Targeting wrong keywords
This is most common web SEO mistakes that most of the beginners make and even experts are not untouched by this factor. In general webmasters aim for keywords which they think best define their website and they forget that the people looking out for such information are not likely to use the keywords aimed according to an advertising brochure. There are times when the actual keyword research can surprise you and you will come to know how off target you were.
2. Use of Graphics and Flash in excess
There is no doubt that flash content looks great on web page and for the time being there is nothing better than that little animation describing your various services. But you would be amazed to know that web crawlers can only understand text and these animations means very little to them. The better approach is to use a hybrid approach using both flash headers and HTML content simultaneously.
3. Avoiding the importance of Title tag
In general people use title tag for the name of their company which is no way beneficial to the web SEO. It is important to include the relevant keywords in the title tag of your website. Moreover you can use different title tags depending upon the information provided in that particular web page.
4. Non relevant Link Building
All the major search engines consider external links as a plus point to your website and it often helps in establishing the authority of your website. But it is very important to understand that irrelevant links are of no use to your website and your main focus should be on websites relevant to your basic concept or idea.
5. Use of JavaScript Menus
JavaScript menus look great on your website and it is always good to see that magical effect on hover but you may not know that search engines do not read JavaScript. So in case you are using JavaScript menus then make sure that all the HTML links are present on one or other page of the website. The best way is to provide an HTML or XML sitemap of your website so that the search engine crawler can list all the links of your website.
6. Use of Non-Ethical or Black Hat Techniques
During the earlier days of SEO these black hat methods showed great results for comparatively lesser efforts. Some of the major black hat techniques include doorway pages, hidden text, overstuffing keywords etc. and these were very much in use. But nowadays these techniques are responsible for getting you penalties and banned so it is better to avoid any such technique in web SEO.
7. Inconsistency and Maintenance Efforts
Most of the people are of the opinion that once they have achieved high search engine rank, there is no more need to put in any web SEO efforts. But in reality, a better search engine rank can only be guaranteed with a consistent effort to optimize your website, careful examination of competition and updating your website according to the changing search engine algorithms.
8. Services from Unethical SEO Consultants
The internet is full of SEO consultants offering quick time rankings in search engines or some of them even claim some relationship with these Search engines. Be aware of such consultants as these SEO consultants will indulge your website into unfair link building strategies and will result in getting your website banned. In some cases there are even SEO consultants who ran away with the client's money, so only trust reputable consultants for any such services.
9. Use of Images as Headings
Many webmasters use images as the headings because of the fact that images look better than text and they even use images for menus and all the major headings. No doubt that these images make your website look better but with respect to web SEO, these image a real blunder. Heading tags including H1, H2, H3 & H4 are very important with respect to SEO and one should include all major keywords in these headings. The headings are considered as important and search engines make an estimation of the content with these headings only. So use these heading consistently and to every possible advantage.
10. Avoid In-house Optimization
Most of the people consider SEO to be an important task and try to do it all by themselves. In past few years search engines have made huge changes to their algorithms for providing more accurate results. With such changes even the experts have to work very hard to achieve good rankings then how come you are expecting your site to rank good. So it is better to look out for a reputed SEO firm and get a decent web SEO package for your website.
Web SEO is a process requiring great level of expertise and needs you to put in lot of efforts. The increased competition in the Internet industry has made it even much harder to get a better rank in search results. Web SEO is no more that easy link building only process which can be done by submitting your website to some directories. A good web SEO strategy should include both on-page and of-page SEO supplemented with high quality content and should be followed by consistent hard work.
This is a guest post by Mitz Pantic who builds websites to make money online.

Need some more FREE SEO Tips? Avoiding SEO mistakes is not easy as there are so many to make! Understanding search engine optimization is an important step for your websites guaranteed success.