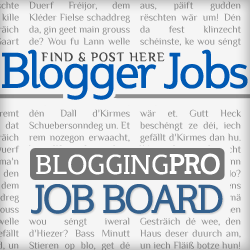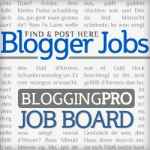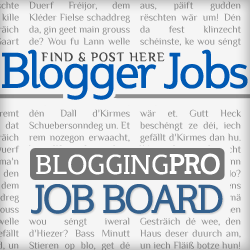 November has come and gone. Are you welcoming December with open arms? How's your Christmas shopping doing? If you need to get more jobs to fatten up the Christmas budget, here are the highlights of this week's Job Board. Best of luck!
Are you interested in green technology/energy? I think we should all be, but of course that is not the case. If this is a topic close to your heart, do check out this job ad as Green Energy Reporter needs someone who can write intelligent copy related to clean tech in Europe.
Spend much time (and money, perhaps) looking for deals and shopping online? You might as well make some money out of your experience, so why not apply for this blogging position?
Do you think that education should be a top priority? Do you want to make a difference in this field? Work from home and write about a wide range of issues related to education – and get paid for it!
The travel bug can bite anyone, any time. If you love traveling, take a look at this writing job which is all about your passion. Even if you cannot travel the world physically right now, you can do so virtually with this writing job.
If you are based in Philadelphia and are interested in education and social media, this blogging job might be a perfect match for you. It would be a plus if you have a big social network.
Author: Noemi Tasarra-Twigg
Editor of Splashpress Media, writer, and geek bitten by the travel bug.