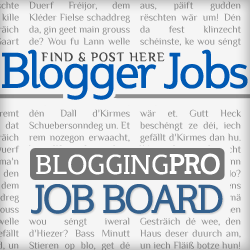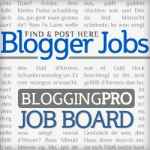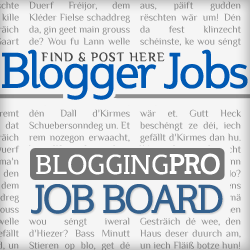 Good Friday morning to all of you! What's cooking this weekend? I hope that you will enjoy this two-day break from work, and if you still need to get some Christmas shopping done, I hope you get to do it without too much of a hassle.
Here are the highlights from this week's Job Board.
Are you a parent based in Main Line, PA? They are on the hunt for writers who are passionate about parenting and the myriad issues surrounding it.
Can't get enough of gadgets? Have something to say that's different from all the other bloggers out there? You might be the person Gadizmo is looking for!
People who are always reading, talking, or writing about beauty, hair, and skin care – this is the perfect job for you! Salon in Your Home is looking for people who can provide a refreshing take on these topics.
Do you understand macroeconomic data releases? Why not earn money blogging from your knowledge? This is a remote position.
If your sense of style and fashion is better than everyone you know, and you like writing about it, then you could earn good money writing for a magazine. The position is remote.
Author: Noemi Tasarra-Twigg
Editor of Splashpress Media, writer, and geek bitten by the travel bug.