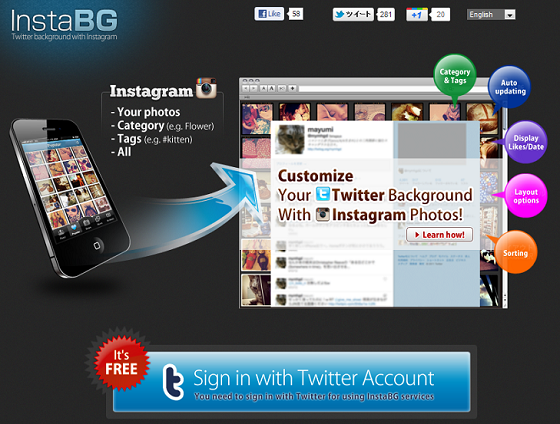 As a frequent user of Twitter I often find myself changing between custom, twitter created and photo backgrounds in an attempt to spice up my account, however all of that update can be time consuming and given the requirements for creating a nice background a little bit frustrating. That's where InstaBG comes into play.
The premise begin InstaBG is simple, users sign into their Twitter account, provide the program with access to that account and then choose which InstaBG photos to include via their backgrounds based on various criteria.
After logging in users will see the following screen: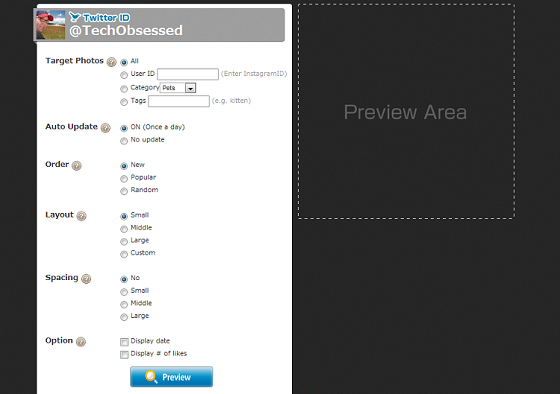 Starting the process is then simple, users just choose the target photos they want to display, for example "All" photos will choose all Instagram photos as they show while "User ID" allows users to show only photos from any user they choose. The programs also offers a variety of categories such as "Pets" and "Baby" among others (still fairly selective). In my case I used "Tags" and chose my area of specialty "Technology."
Once you have chose the picture type you can then choose to have your Twitter background updated once a day by InstaBG or "No Update" which will leave you with a static Twitter background.
Next you'll choose how to order your pictures (New, Popular or Random) which is simple and self explanatory.
For the layout users can then choose small pictures, middle (medium) or large along with custom sizes based on photo sizes in profiles.
Finally if you're goal is too display the popularity and date of photos from an account that option is available.
Once I clicked on Preview I was given the following output: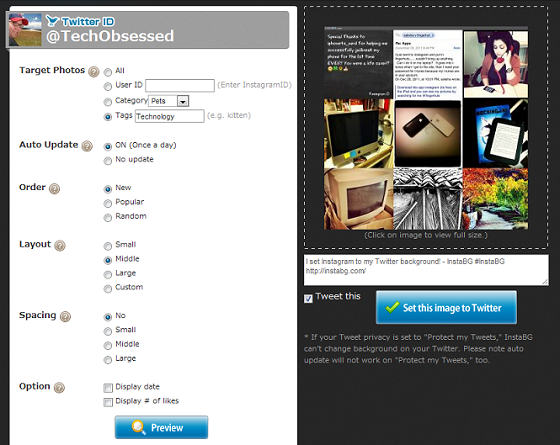 The next part is simple, just click on "Set this image to Twitter" and your new background will display via your Twitter profile. Here's a quick look at my use of InstaBG on my Twitter account: @Techobsessed.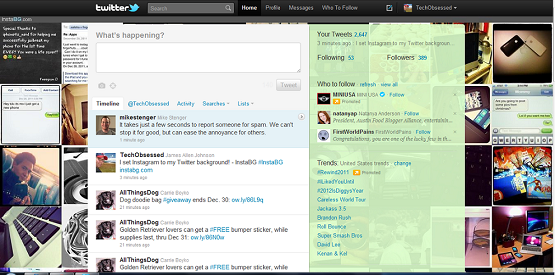 As you can see the output is nice and neat with great underlay for the transparent part of the Twitter output display. Because I chose the daily auto update feature my profile visitors will also see new images each day. If you're a mom blogger, a blogger who writes about personal issues or perhaps even a photographer blogger this is a great way to show your audiences even more of your personality.
Give InstaBG a try today and let me know what you think, best of all it's free so if nothing else you get to see if the program is right for you.