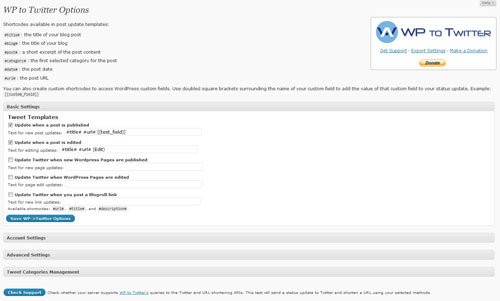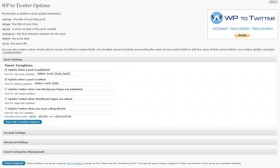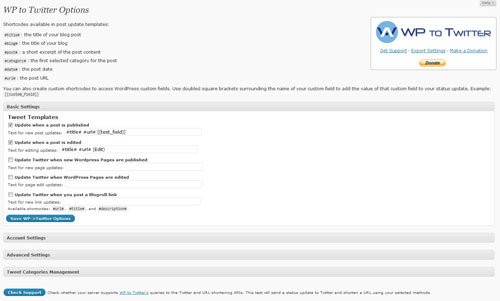 When adding recent posts to your Twitter account there are many WordPress plugins that can get the job done, however I rarely stray away from the WP to Twitter plugin because it's use of custom fields and Twitter OAuth access have guaranteed that my posts will reach my Twitter account with the type of output I desire. I currently run WP to Twitter on 6 different websites and in each case the plugin has delivered as promised from it's use of shortcodes to full URL shortening access and more.
Once you have uploaded the programs plugin to your WordPress install you will find a screen explaining the different post update shortcodes that can be used by the program. As you'll notice you have the option with each tweet to add such output as post titles, blog name, a short excerpt from your content, category information, date timestamps, the posts URL and even the post author name. These options are all great ways to brand your content in a unique fashion that isn't your standard "Post Title – Link – Blog Name" format.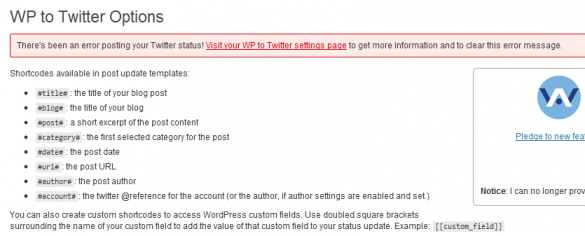 The first step of the setup process is to create a Twitter App for the program. The application will actually show you how to create that application so we will skip that step for now.
Once you have your Twitter username, consumer key, consumer secret, access token and access token secret options from your Twitter developer account you simply enter them in the provided space and click on the Connect button. This step will verify your account and give WP to Twitter access to post information from your blog posts on your behalf.

Once you have setup your Twitter application you can then choose when to Tweet posts. For example the first option allows you to choose "update when a post is published." Below that checkbox you enter the shortcodes we talked about above. For example "#title# #url#" will post your tweet at "Title of Post – URL Link" which you can change through shortcodes. You can even add words before those codes such as "New Post – #title# #url#"
I mention added words because the new option is to send a tweet when a post has been updated, in this case you might have all edited posts go out as "Updated Post – #title# #url#"
Users can also choose to tweet out new pages or updated pages, this is especially good if you run a website with a strong privacy or copyright page and you want users to be aware of changes. For example perhaps you want a group of writers to see your privacy policy update on a page.
You can also set tweets for comments and links however those options can quickly crowd your Twitter accounts timeline.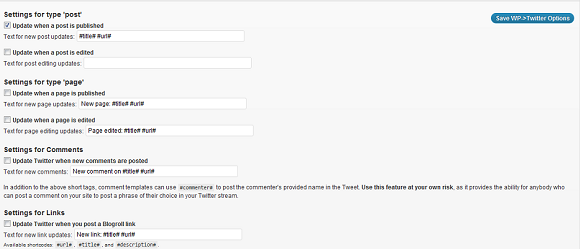 One of my favorite parts of Wp to Twitter is the ability to choose which shortcodes I use. The system had direct support for Su.Pr (StumbleUpon) and Bit.ly shortening services along with the YOURLS Service.
To use all three services just sign up for an account at your service of choice and enter in the desired information, it's that simple. Once installed whenever you use the #url# tag as part of your chosen output you will receive that shortened URL using your service of choice.
Of course if you don't use one of those options Twitter will shorten the URL using the Twitter URL shortening service.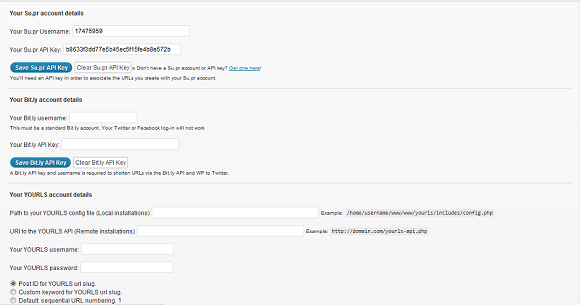 The next section is for Advanced Tweet output. One of my favorite parts of the WP to Twitter plugin is the ability to set Hashtags from tags. For example my tag could be "Facebook" at which point my Twitter message would read "Title – URL #Facebook" If you run a blog that is focused on very specific topics you can even create your own tags on your posts that match targeted hashtags you have created.
You can even choose how many tags to include in case you use 3 or 4 tags instead of one. The advanced settings also allows you to choose a Twitter date format and even choose wording to put before ALL tweets if you don't want to specific that information in the basic settings on a per tweet basis (which I don't see the point in doing personally).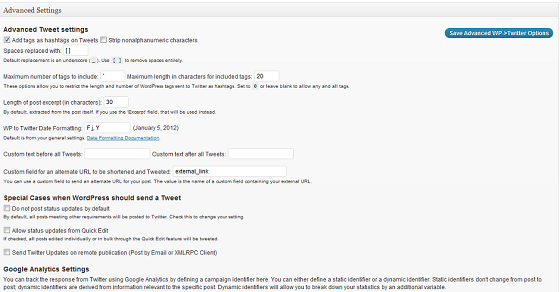 Not pictured in the screenshot above is the "Author" tag, this allows you to use the #Author# code to make reference to a specific author in a tweet. For example my Twitter name is @TechObsessed and if I specific that name in my user account via WordPress my Tweets could read "Title – URL #Facebook @Techobsessed."
If you want to build branding for your authors the author tag is a great way to accomplish that goal.
Overall I find WP to Twitter to be the most customize and user friendly option available in the WordPress repository, give it a try today and I'm sure you won't be disappointed.