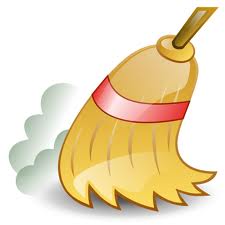 The Clean Options plugin is probably one of the easiest to use yet most effective plugins currently available for WordPress website users.
As you may already be aware when some plugins are deleted they fail to remove their database tables from your websites MySql database, conversely they leave commands nested inside your WP-Options table. In some cases poorly constructed plugins can slow down your website and keep it slow even after removed.
WP's Clean Options plugin however helped you find those orphaned plugins and delete them with just a few simple clicks.
To get started simply search for "Clean Options" from the "Add New" screen in your WordPress admin areas Plugins screen or download and install the plugin: http://wordpress.org/extend/plugins/clean-options/
One installed the plugin is located under "Tools."
After clicking on the plugin you will see the following screen:

As you'll notice I only click on the "Don't show the Known WordPress Core Options for this "Find" and that's because I'm only trying to find Plugin files that were left behind. If you don't know what you are doing or want to error on the side of caution I would suggest only clicking on the top box. Next you will simply click "Find Orphaned Options."
The next display will take several seconds (10-20 seconds on average) to display the orphaned plugin and the output will look something like this: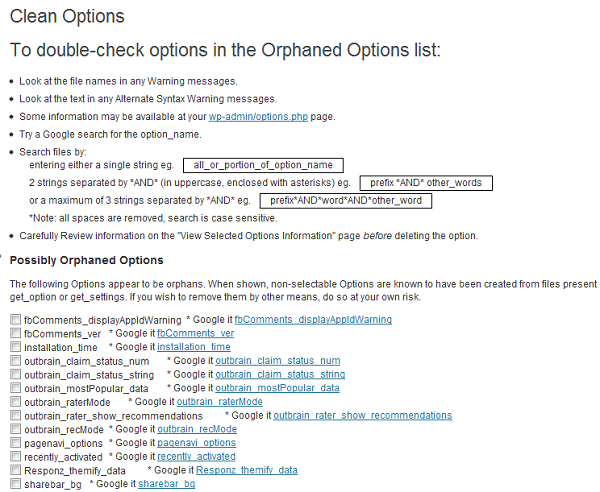 As you'll notice the plugin options are typically named directly after the plugin you have installed or may have removed. For example if you were using the Sharebar Plugin you would see "Sharebar_bg." At this point you simply click on all of the plugins that you want to remove tables for. At the bottom of all your options that have been selected you then simply choose "View Selected Options Information."
The final output screen will look like this:

After you have verified that the plugins displayed must be removed you just click on "Yes, Removal ALL of these options from the wp_options table. You can also select "No. Don't remove them, return to the first screen" if you have made a mistake. Click submit and your choice is processed.
One qualm with this plugin, if you have installed 50 plugins over the life of your website and there are 1000 orphans options there's a good chance the program will time out, this is because it will take longer then the typical 30 second timeout option found on most hosts. To fix this problem you can have your host extend your timeout function or add a command to your .htaccess file to do so on your own.
If all else fails you can always access your phpMyAdmin area, open the WP_Options table and select each orphaned table by hand and choose delete. However when used regularly Clean Options allows you to avoid fiddling manually with your WordPress database.
As always remember to backup your WordPress database regularly to avoid any issues that this plugin or other plugins may cause for your website.
Give the Wordress Clean Options plugin a try today and let me know what you think.