Working with an open-source platform that provides open-source plugins means it's often cheap to build and maintain a website using WordPress, however because the platform and plugins are often open source it can also create a security headache for site administrators and that's where Ultimate Security Checker comes into play.
The program is simple to use, essentially users simply search for "Ultimate Security Checker" in the WordPress repository and upload it to their server or they just install it direct from the WordPress plugins search section inside the admin area of their websites WordPress setup.
Once installed the program will ask you to run a diagnostic at which time Ultimate Security Checker will examine your blocks file settings, server settings, WordPress database and required plugin updates for stability.
Here's the output for the program after a check has been completed: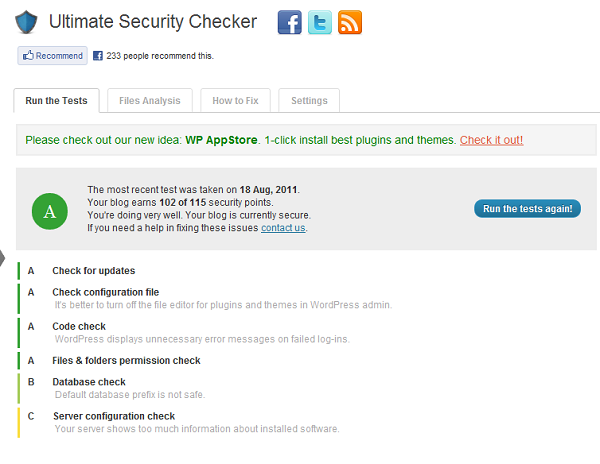 As you'll notice each area that is checked is ranked, this shows users where areas of improvement can be made, the program also gives each WordPress blog a security points score, in this case my blog scored 102 out of 115 points because several server configuration steps could be better optimized.
Users can choose to "Run the tests again!" whenever they want while the settings tab at the top of the screen will also allow them to set a reminder scan for 1 or 2 weeks (this can also be set to "never" if you choose).
Next to the "Run the Tests" tab at the top of the screen users will also fine the "File Analysis" tab, in this option you can have Ultimate Security Checker scan each file on your blog while searching for suspicious code, this of this tab as the virus scan portion of the plugin.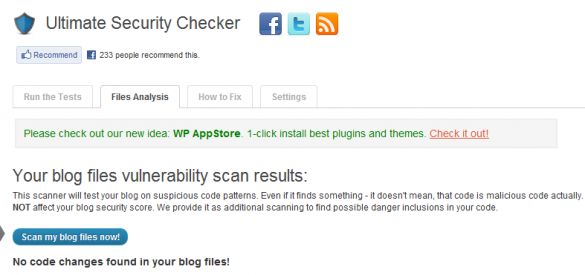 Once you have found areas that require improvement simply click on the "How To Fix" tab which will in turn lead you to helpful resources that explain how to better your blog through simple fixes that you can handle on your own or with the help of your hosting provider.
And just in case you forget about Ultimate Security Checker I wouldn't worry to much, your security score always shows direct at the top of your admin bar, ensuring you can keep an eye on the security of your blog at all times.
Use Ultimate Security Checker alongside WP Clean-Options and you'll have a nicely secured blog that runs safe and fast for years to come.