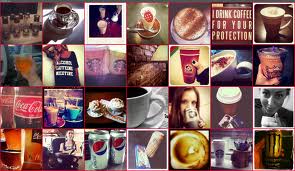 As a visual person I like to create content on my websites that not only allows for a good read but also provides my readers with visual stimulation. However once my readers begin to engage with my content offsite I have found in the past that my content didn't live up to expectations. To be honest I simply don't have enough hours in the day to constantly tweak my social media sites to offer nice graphical interfaces.
That's why I was pleasantly surprised when the team at InstaBG approached our team about a new program that allows users to automatically cull images from Instagram and feature them as Twitter backgrounds. The best part of the program? It can change your background daily based on the Instagram criteria you provide.
To start using InstaBG users simply click on the large "Sign in with Twitter Account" button that appears on the InstaBG.com front page.
Once you have authorized the account the following setup options will be shown: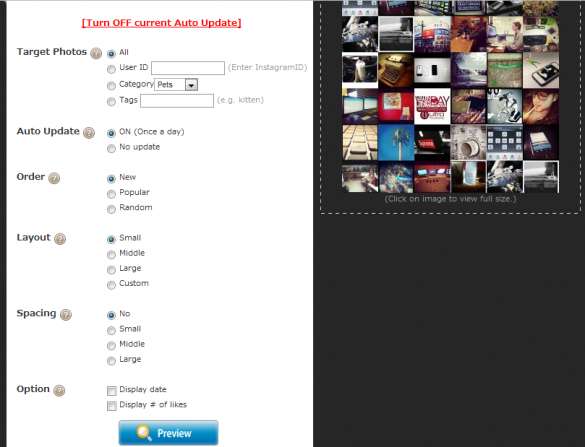 To setup your account so only images you have loaded from your blog to instagram show up you will enter a "User ID" in the "Target Photos" section.
Once you have targeted the account you want to use the rest of the steps are pretty self explanatory, for example you will choose to display new pics every day, create a static Twitter background, show new photos, popular photos or random photos and even choose the size (small, medium, large, custom) for each photo.
Quick tip: i find that "No" for spacing is the best looking option as it creates a nice collage look.
Once you have clicked on the 'Preview' button you'll notice the preview pane filled in on the right side of the screen, simply click on the "full size" link and you will see something like this: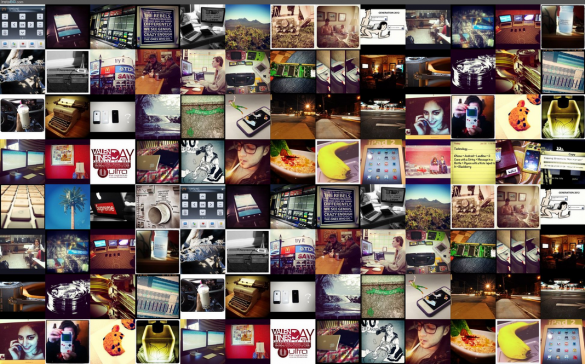 Once you feel comfortable with your background you can set it to go live. The live background will then update daily if you have chosen that option and you should have a display that looks something like this: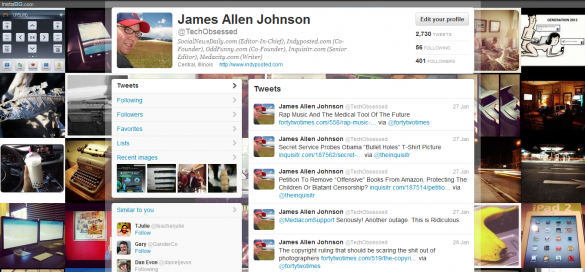 By incorporating your blog images into an Instagram account and then incorporating InstaBG into your Twitter account you have now created a dynamic and ever changing social media account for your blog with very little work outside of uploading photos to Instagram and very little initial Twitter background setup.