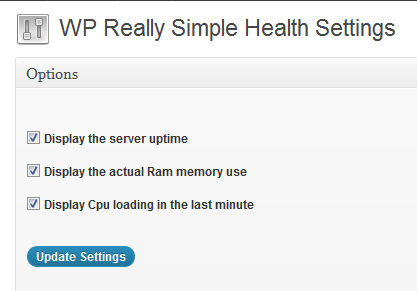 WP Really Simple Health is a very easy to use and ultimately useful application for WordPress users who are worried about Cpu user time, server uptime and general WordPress memory utilization.
The program can be downloaded at WP Really Simple Health and offers users just three simple options for setting up the program.
Here's a screenshot for the program's health settings: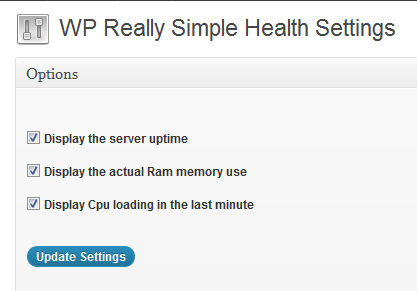 Once installed the program then provides instant access to a users server setup in the admin bar at the top of their WordPress page setup. Having immediate access means you can quickly see your servers health without needing to navigate to a specialized area for the program.
Here's a quick look at the navigation bar for one of my personal sites that runs the WP Really Simple Health plugin:

As you can see the uptime is listed as "up from" while the systems RAM output is shown along with CPU% which is blank in that example because it only displays Cpu last minute load.
One really nice part about Simple Health Settings is the fact that it uses classes to avoid naming collisions which in turn means you won't have conflicts with your other plugins, wordpress files and the plugin.
Overall WP Really Simple Health is a simple to use WordPress plugin that offers users easy access to some very important statistics without any extra work on their behalf.
Since this is a new WordPress plugin I will provide my standard disclaim: Server load, stability and other issues may exist and have not fully been tested, if you use this plugin on a platform that charges for compute cycles, CPU usage or other load variables you will want to closely monitory your user account.