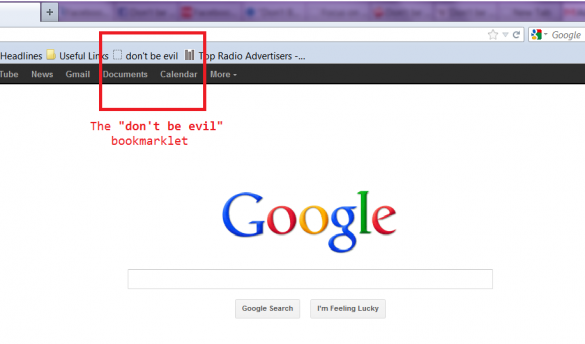 So when Google forgot it's very own motto – yes, the motto that they came up with way before becoming an IPO – "Don't be evil" – social networking sites besides Google have come out with a tool that should sure remind Google that it focus must remain on the user. So, the engineers of various networking sites came together in the last weekend of Jan, this new year, and devised a perfect solution: The "Focus On The User" tool.
This is basically a bookmarklet which needs to be added to your bookmark tab.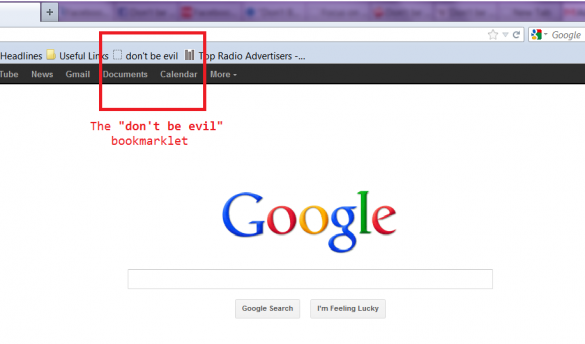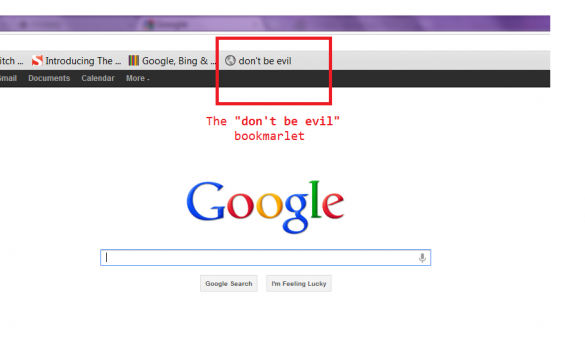 It's simple. Simply go onto the site, and drag the bookmarklet tool to your browser – Firefox (IMAGE1) or Chrome (IMAGE2) or any other browser.
Why is this tool important? And what's so wrong about search plus your world?
Well, if you are a webmaster, you are sure to think that Google's trying it's best to hold SEO by the neck! Every of your efforts simply seem to be neglected. Here are a few pressing concerns:
Google's Search Plus Your World – A Brief On What Happens
This is a social search which lists pages and people
It lists items and profiles shared on Google Plus
It's a default search result for people signed into their Google accounts
It presents social results only on Google's social networking site, G Plus.
What The Bookmarklet Does:
The bookmarklet removes bias. It brings you content from the social web and the most relevant of the searches. It doesn't get you a twitter page or a facebook page just because it feels like! It gives you the most popular pages that seem relevant. Something like this: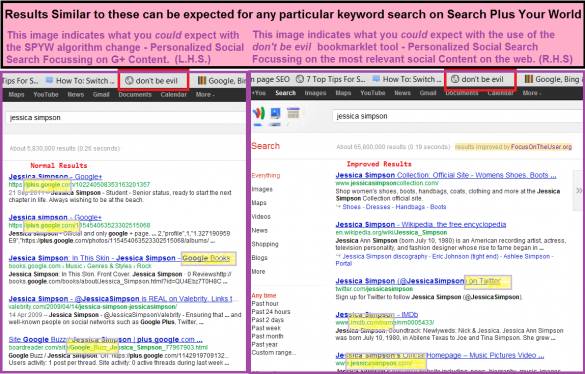 For each search the more results that should be most apt are brought to you. Simple and sweet!
The tool works simply by clicking on it. All you have to do is perform a search for any keyword, with your personalized Google search option turned on. Now Google will present its top social results – mainly form Plus pages. Now go up to your tab, and click on the don't-be-evil – DBE – bookmarklet. Your search results get refreshed and now show more relevant social searches, all picked up from Google search engine only. As you can see in illustrative, what-you-may-see, image above, the L.H.S shows the Plus centric results for personalized search for the particular keyword. While, the image on the R.H.S shows the refreshed results, without bias, indicating the twitter page, imdb page, etc.
You can pick up even random words and try your personalized social search for terms like movies, films, music, trekking, camping, dancing etc and see the difference in results once you use the bookmarlet.
Another interesting thing to note is, the keyword being keyed in. A keyword with social relevance will certainly shows much difference in results, while a keyword that's relatively neutral on social relevance, may not show much change at all. For instance, something like "water bottle for toddlers" may not be something that shows much difference on Search Plus Your World SERP and a don't be evil SERP.
How Does "Don't" Be Evil Work?
Like they have explained themselves, while making the video how-to-use "don't be evil" – the tool simply does a Google search and presents social results for a keyword from the top 10 pages of Google. The site on which the brand or person is most popular, shows up prominently and all the other sites on which the brand or person is present, appears in small tabs; that you can click on to visit profiles. So, don't be evil makes social search a more wholesome experience.
Why Webmasters Should Be Happy:
With the way things keep changing – from Panda updates to algorithm changes – Google is forever trying to outwit webmasters and search engine optimization; while webmasters themselves, never give up and keep working harder. With the "new social" search, they want people to enjoy personalized searches, in a bid to reduce influence of SEO. In other words:
What about all your hard work on other sites?
What about your testimonials and interactions on twitter?
What about the number of like on your Facebook business page?
And there are various other cases. This simply means that despite the awesome video for search plus your world, everything isn't right. With the new DBE tool, at least people will still get relevant results; the pages you've been working on will still be worthy.
And moreover, webmasters don't really have to worry. It's really not like all the algorithms will totally overpower search engine optimization efforts; it only means the rules of the game are going to change slightly. And YOU have to be pretty social to win, that's all!
Google and Plus need to make changes and need to remember their motto all over again. Else, we'll have to back, support and rely on the many engineers of rival companies that will at least try to nullify the extreme biases and bring about a new definition for the strong, social Personalized Search.
Divya loves research and writing on subjects of web development. Besides core interests in SMO, SEO and web content writing, she is also an avid blogger at a leading SEO company and working since past few years.