If there's one qualm I have with the WordPress platform it's the fact that changing my websites template from time to time leaves me with a broken site. In some cases I may have been using a template that doesn't require me to use a "featured image" for front page display, in other cases certain plugins simply don't work with my new template configuration.
My biggest qualm however comes from the way images are handled through the WordPress platform. Let me fill you in on this process, whenever you use a specific theme and upload a picture that photo is uploaded using all of the thumbnail sizes available for the template being used. For example if display pages require 300 x 250, 500 x 500 and 30 x 60 photos to be created that's what you'll receive.
Now let's say you jump over to a new template and the thumbnail sizes require 250 x 250, 500 x 425 and 30 x 60. Two of your images will not show correctly (they will be too small to fill in available space).
That last statement is where the Ajax Thumnail Rebuild Plugin for WordPress comes into play. This plugin easily allows users to rebuild thumbnails from all of their pictures based on current theme requirements. 
You can start using the program by visiting this link: http://wordpress.org/extend/plugins/ajax-thumbnail-rebuild/ or by searching for "Ajax Thumbnail Rebuild" via the "add new" plugin section in your WordPress install.
Here's the display screen you will be provided with once you navigate to "Tools" and then "Rebuild Thumbnails."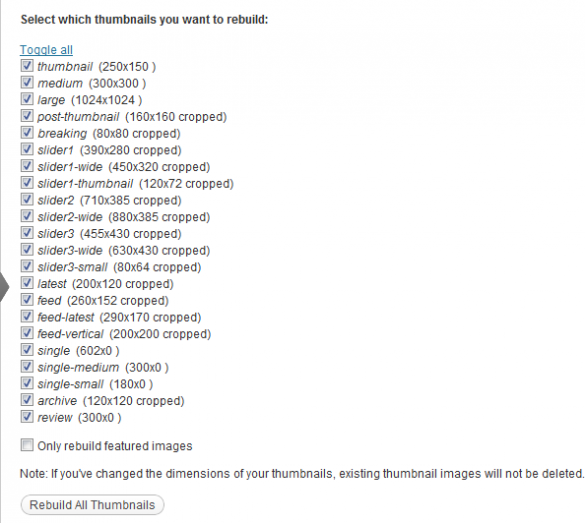 As you'll notice you can choose which files to rebuild and which files to leave alone, this is good if you only want several file sizes to be used with your new theme since it means less stress on your server as the plugin skips over certain file types.
In many cases a new WordPress template may only require several featured thumbnail images to be used throughout the theme in which case you can simply click the "Only rebuild featured images" to cut the workload severely down for the plugin.
While there are other thumbnail rebuilding plugins for WordPress they typically tell your server to rebuild all images at once, however your server will likely place a time constraint on that process and for larger sites with more images you'll eventually receive a time out error. Unlike those plugins this program rebuilds images one at a time, avoiding time out issues since a new thumbnail rebuild command is sent to the server when the last process has completed.
Having rebuilt thumbnails for websites with hundreds of posts I would highly recommend the Ajax Thumbnail Rebuild plugin to anyone looking for a quick fix to image display issues within their new WordPress template.