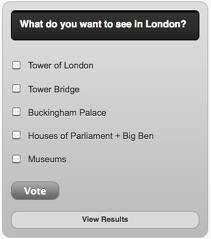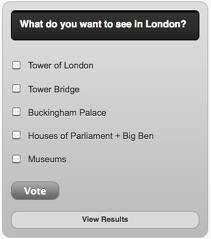 Creating original content is a crowded field that includes hundreds of millions of websites can be a daunting task. In 99.99% of cases you may spend more time collecting information, tracking down news breaks and looking for sources then you will actually writing content. However if you have an engaged user base you might find that creating new content is just a matter of asking the right questions…literally.
Here are some quick tips to help you ask the right questions when creating polls, questions that will allow you to build a new post around the answers you discover from your readers polling results.
Setting Up Multiple Choice Polling Questions
Start each of your poll questions with at least 3-4 potential answers. If you ask a simple "yes" or "no" question you are stuck writing "10 people said they do like X product and 5 people said they didn't not X product." However if you have 3-4 options you can break down your users responses into various percentages and then discuss how products/situations differ and compare to one another. You can also use multiple choice answers to create nice infographics (graphs, charts, etc).
Don't Lead Your Users Answers
Polling questions should be free of any bias that may arise. For example if you state "do you think WordPress and it's various functions is better then Tumblr" you have lead your users towards a WordPress answer by insinuating that WordPress has more functions and is therefore better." A better question would be "Which Blogging Platform do you prefer" as which point your options would include "WordPress, Blogger, Tumblr, Other."
Leading or "loaded" questions should also be avoided, for example:
Don't you agree that Tumblr should be used for new bloggers instead of Wordress?
1. Yes I agree
2. No I don't agree
3. No Opinion
Notice how that last question practically begs users to agree since it's insinuated that Tumblr is better based on the writers expertise in the field, an opinion readers are probably willing to accept as fact.
Implement An Essay / Open Ended Question Section
You can't possibly reach into your readers brains and pull out all of the details surrounding a topic you want to cover so therefore ask open ended questions instead of using only multiple choice questions. These are questions that can not be answered with a "yes" or "no" answer. For example you might ask "What is the least useful administrator feature for Wordress." Open ended questions beg for more information and if several users provide the same type of answers it can lend itself to interesting new content.
Ask For More Information Not Included In Your Polling
While open ended questions may lead to unexpected answers your readers will tend to stay on topic based on the questions you have asked, however you can learn even more about a topic by including an extra field at the end of your polling. I like to use "What other information can you provide about this topic?" or something along those lines.
Using Collected Information 
Once you have collected information from your polling data you then need to report that data. In many cases you can simply write up your data however adding pie charts, graphs and other brightly colored information to your post not only allows you to present unique data, it also creates nice looking posts that add to the professionalism of your polled creation. If users have given specific answers you like don't be afraid to include those written answers in your content, it allows you to show exactly how other people feel about the topic you are covering.
Polling data is used by most major data collection company's in order to find out about a demographics thoughts on a subject and many of the top reports we see on websites use that data. By creating your own polls, receiving a decent number of answers (I shoot for at least 50 but preferably more than 100) you can create your own results that other blogs and possibly news agencies will pick up and report about.