Despite its horrendously long and horrible name the Add Twitter, Facebook Like, Google plus one Social share plugin for WordPress is the best way we've discovered to date for adding horizontal share buttons with a vertical scroll option to WordPress enabled pages, posts, homepages and other display options on a WordPress setup.
To begin using the program you can visit http://wordpress.org/extend/plugins/twitter-facebook-google-plusone-share/ or you can search for Add Twitter, Facebook Like, Google plus one Social share via your "add new" option in the plugins section of your WordPress admin area.
Once installed the program is located in the "Settings" tab on the left navigation bar of your websites administrator area under the name "TF Social Share."
Once you launch the program the first options you will see are the "General Options."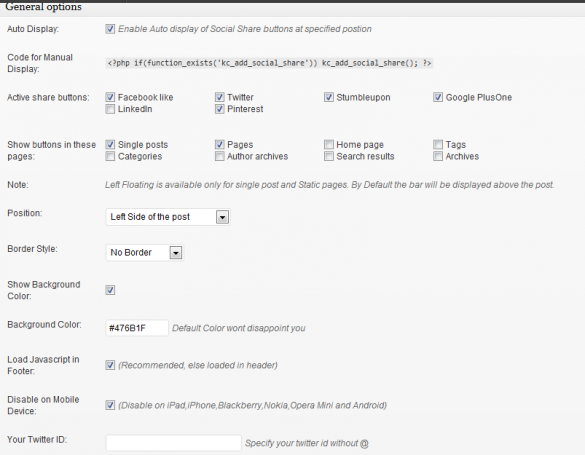 As you'll notice the first option is to have the program "auto display" this is a great option if you plan to have horizontal share buttons at the top or bottom of each post in any WordPress theme or if you want to hover buttons on the "left side of the post." However you can also uncheck the automatic box and instead insert the programs PHP coding directly into your template as you see fit.
Next you simply choose which share buttons you would like. Unlike the "Sharebar Plugin" this program doesn't allow you to add new social share buttons at will but it does have Pinterest already included which is a nice added bonus.
The next option simple asks you to choose which parts of your website the plugin will appear. If you choose "homepage, categories, tags, etc" I would highly recommend checking the output immediate as the buttons on several of my websites have shown up in strange places that broke the flow of my article output.
Once you've chose those options you can then choose the button placement and decide whether or not you want a border around the buttons. Notice that you can also "show background color" or leave it unchecked for transparent. If you have a certain background color you want to use it can also be entered in hex decimal format.
My favorite part of this plugin however is the ability to have it load in the Footer. This is a nice touch because occasionally Twitter will change its API and conflicts will occur that can mess up the sharebar and other WordPress plugins. By loading the plugin in the footer if it created conflicts the rest of your website loads and the share ption is the only thing missing.
As you'll notice you can also disable on mobile devices and add your Twitter ID so your Twitter shares include the @twitterhandle response.
The next options focus on setting up your share options for the left side floating bar and for button sizes: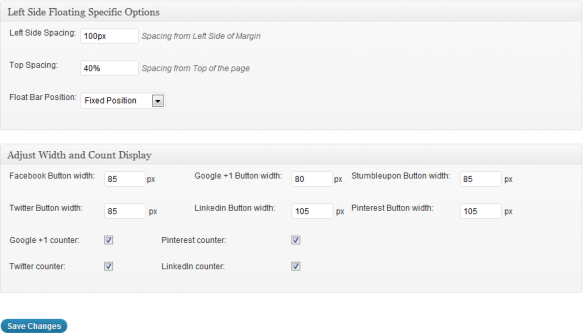 The first several options allow you to determine exactly where the social sharing bar will float on the left side of the page. I kept the bar in a fixed position which allowed it to always show on the page without an annoying "follow the scroll" tyep of setup. You can easily change left side spacing and the top spacing to match optimal output on your website which is a very nice feature, especially for uniquely setup pages.
The second option lets you choose the size of each button and to decide if you want count display to show. This is a self explanatory section and it comes in handy when you want to make everything match up nicely on your pages.
There are a lot of social sharing plugins for WordPress however the Add Twitter, Facebook Like, Google plus one Social share Plugin so far has been the easiest to implement on my WordPress created properties because it helps me avoid scripting conflicts with other programs.
Give this easy to implement WordPress plugin a try today and let me know what you think.