Twitter is more than just a place to post a constant stream of minimally worded updates and links for your friends. It is a marketing platform, a place to keep up with current events, conferences and causes, and an all around fun means of global socialization.
One feature that many users seem to be unaware of is a Twitter Chat. This is not like your traditional chatrooms where people gather for live conversation within a designated location. Instead, it is a conversation held by people who are part of your your "Twitter Party" and use #hashtags to attract updates from others invited to the same chat.
You can, of course, organize your own. Many blogs with some Twitter following have started creating conferences, lectures and basic social gatherings using this method. Since you can automatically use any hashtag on Twitter, all it takes is an announcement to the people you wish to participate, along with a date. The conversation should last through the day, and sometimes for several days depending on the topic.
But if you want to know about regular chats already being held on Twitter, check out these websites and their schedules. Each is specifically aimed at bloggers, and offer advice on how to create a blog, increase popularity, keep posts fresh and more.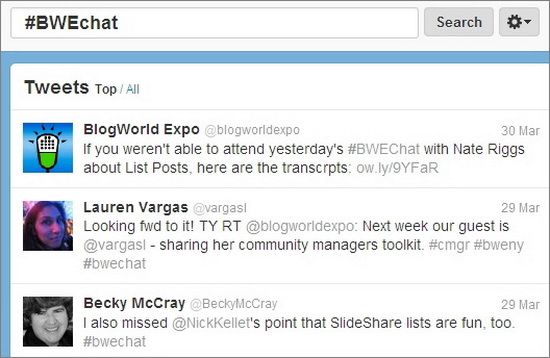 BlogWorld has started to do a weekly chat thanks to the popularity of their Twitter discussions. Using the tag #BWEchat, you can join in on various topics, with guest speakers from around the blogosphere, such as Kelby Carr. Their chats are every Wednesday, so you can just jump right in. Or, you can check their official chat page to see what topic they are discussing for the next several months worth of conversations.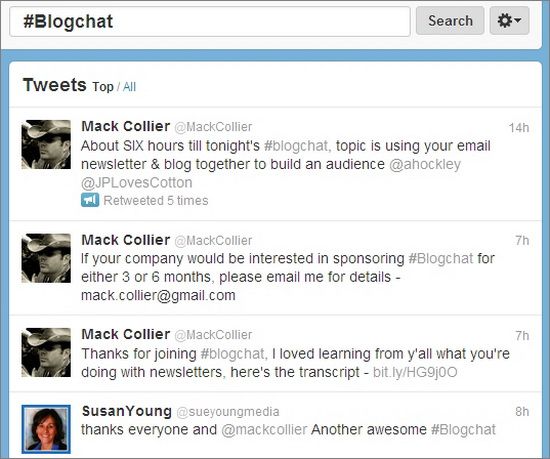 Popular blog consultant and social media guru Mack Collier has been holding Twitter chats for awhile now, under the hashtag #Blogchat. Using a tracker, he was able to count more than 8,200 users participating in blog chats under that hashtag, either related to him or not, within a couple of months time. You can check his website for details on upcoming chats on Twitter.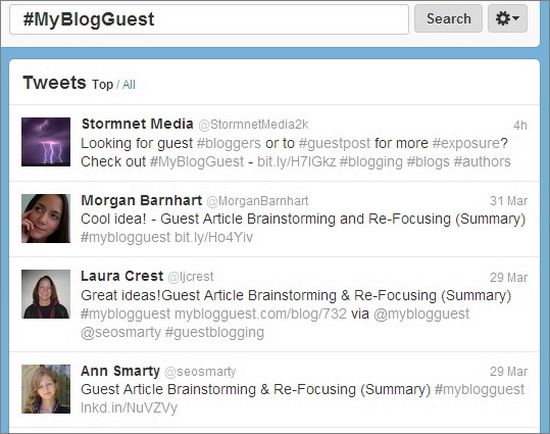 You probably already known about My Blog Guest, and the way we hook writers up with blog owners who need content written on a post by post basis. MyBlogGuest is also a handy place to learn tricks of the trade.
We have started holding a weekly guest blogging Twitter chat every Thursday 11 a.m. EDT (3 p.m. GMT) under #MyBlogGuest. Our Twitter chat evolves around content creation, brainstorming, guest post link tracking tips, etc. If you want to become a power guest blogger, you should definitely be there! If you are still in doubt, read our weekly chat summaries and transcripts to get idea of what we are talking about there.
Using both the #BrandChat hashtag and TweetGrid (which they have set up already to allow you to use by clicking the link featured on their page), this site does a weekly chat on Wednesday mornings, starting at 8 AM PST.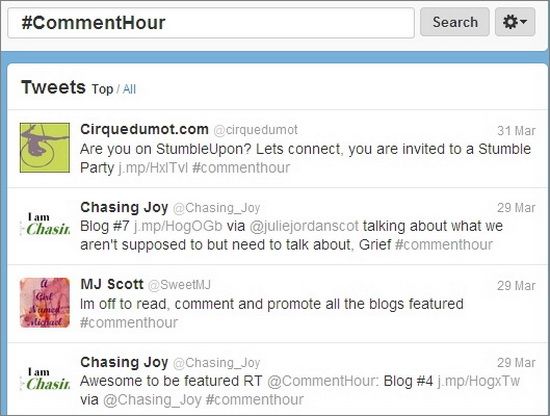 If you are a blogger who wants to potentially get some visibility, this is a good way to go. You sign up with your Twitter ID and blog link. Twenty five blogs are randomly featured from the applicants. On Wednesday at 6:30 PM PST they will post the first selected link and you go to the blog, read the post and comment. Then go back for the next. There will be an hour of this until all chosen blogs are there. Not only will you potentially be featured, along with the hashtag #CommentHour, but you will be seen as a commentator which can help build a reputation over time.
Conclusion
Bloggers can really benefit from using Twitter chats, whether their own or participating in others. Are you holding one? Let us know in the comments, including date, time and hashtag.