First of all, let me take you to the brief history of WordPress. WordPress is the leading blogging platform which is based on PHP and MYSQL and was first released in 2003. These days' more than 20% websites are using WordPress as their CMS and WordPress 3.0 version has already been downloaded more than 65 million time. WordPress has lots of ready to use solutions in the form of plugins, themes, tools and tutorials etc. which makes it the ultimate choice for professional and beginner bloggers.
By now you are finished with installing WordPress as the blogging platform on your blog and want to convert your first simple WordPress blog into professional blog which is SEO Optimized and User Friendly. Today I'm going to share the list of 10 WordPress Plugins that you should install on Your WordPress blog straight away if you are installing plugins on your blog for the first time:
1.     Akismet Plugin
First plugin you should install on your blog once you start receiving comments on your blog contents is Akismet plugin. This plugin is smart enough to differentiate between a good comment and spam comment. This plugin will automatically send all spammy comments in to Spam folder and you will just need to moderate and reply back to quality comments only.
2.     Related Post Plugin
There are lots of related post plugins available in WordPress plugins directory. But I would recommend using YARPP (Yet Another Related Post Plugin). And it's not me only who is asking to use this plugin for your WordPress blog, even Matt Cutts is recommending YARPP on his personal blog here. Presence of related post plugin in your blog posts will make them more search engine friendly and will have positive impact on your blog overall engagement metrics.
3.     Google XML Sitemaps Plugin
Presence of XML Sitemap for your blog will help it towards faster indexing in major search engines including Google, Yahoo and Bing. If you are don't know how to create XML sitemaps and just beginning your blogging journey with WordPress, Google XML Sitemaps plugin will be really handy for you as this plugin will automatically generate XML sitemaps for your blog. You can submit the same XML sitemap to Google via your Google Webmaster Tools account.
4.     WP Smush.it Plugin
WP Smush.it plugin will help in reducing the size of images that you are uploading on your blog. Best thing about this plugin is that it used to run in background and you don't need to do anything after installing it into your plugins directory. And since website load time becomes one of rankings factor on Google, plugins like WP Smush.it will be really helpful in improving the speed of your blog by lowering down the size of images available in your blog contents.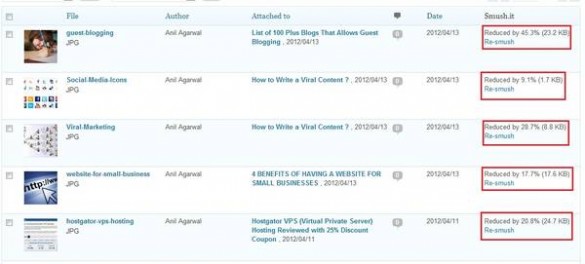 5.     Broken Link Checker Plugin
As the name suggest, broken link checker plugin can find all the broken links in your blog and help in fixing them as well. Presence of broken link checker kind of plugin will help you get rid of broken links problems on your blog from day one. Your blog readers will be really annoyed on seeing links which are not working on your blog. Not only your blog readers, but if your blog contains too many broken links that will have a negative impact on your blog rankings on search engines. So broken link checker is one of must have plugins for WordPress blogs from day one.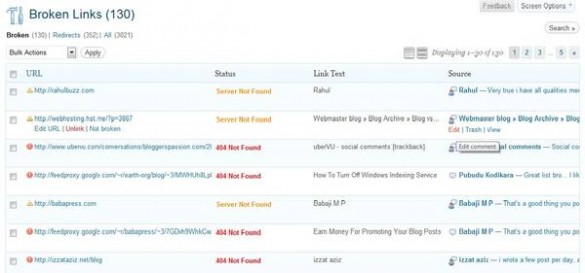 6.     SEO Smart Links
SEO Smart Link plugin will help in interlinking your blog contents in an optimized manner. You can use this plugin to automatically link targeted pages and posts with their predefined anchor text's in your blog posts and pages etc. Apart from blog contents interlinking, there are many more feature you will enjoy after installing this SEO plugin on your blog like adding nofollow tag for external links and opening links in new window etc.
Contact Form 7
As the name suggests, Contact Form 7 plugin can be used to add a contact form on your blog. You can use this plugin to add a contact form into your blog posts and pages etc. There are lots of customization options available with this plugin that you can use as per your need like you can modify the number and type of fields you want to show on your contact forms. You can include a Captcha as well through this plugin on your blog contact form to tackle spam activities.
8.     All In One SEO Pack
All in One SEO Pack is the most popular SEO plugin available in WordPress plugins directory. This plugin will help in making your blog more search engine friendly. You can easily optimize titles and meta tags for your blog home page, internal pages and posts etc with this SEO plugin. This plugin can automatically take care of canonical issues that you may be facing on your blog.
9. WP Super Cache
WP Super Cache is a page caching plugin for WordPress blogs and the only motive to install this plugin is to experience a faster loading WordPress blog. WP Super Cache after installation will convert dynamic pages of your blog into static HTML pages and start serving those static pages to your blog audience.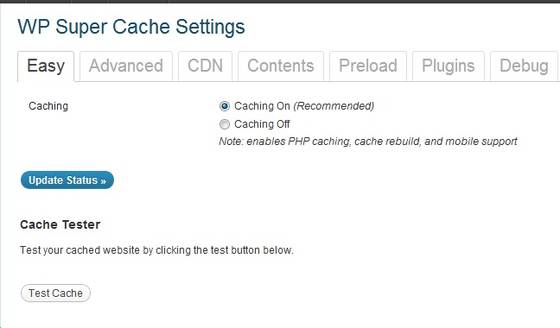 10. Subscribe to Comments
As the name indicates, Subscribe to Comments plugin will allow your blog readers to subscribe to incoming comments on blog posts of their interest. Presence of this plugin will help your blog readers in managing their comments subscription on your blog easy. With this plugin, they can easy subscribe or unsubscribe to certain posts of their interest and also can change their notification email address.
Download Link
With this, it comes to the end of this special guest post mentioning all the plugins you must have if you are Beginner to WordPress blogging. It would be interesting to know which plugin you guys are using on your WordPress blogs, please share in the comments section below.
Author Bio
Anil Agarwal is the CEO of BloggersPassion.com blog where he writes on variety of topics around WordPress including WordPress web hosting, free WordPress installation, WordPress themes, WordPress plugins and traffic building tips and techniques for WordPress blogs etc.