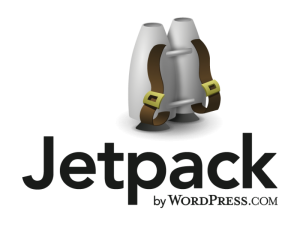 A year and a couple of months after it was released to non-WordPress.com users, Jetpack is still packing some heat, especially with a few new features not included in the initial release. While most of Jetpack's features can be also be acquired by installing other WordPress plugins, there's a certain level of efficiency and convenience involved in getting all of them in one simple installation.
You can install Jetpack just like you would any other WordPress plugin; just download the package and install, that's it. You will need to connect it to a WordPress.com account to activate the features, so make sure you already have a WordPress.com account before strapping on your Jetpack.
If you're still not using this plugin on your self-hosted WordPress blog, here are some of the features and benefits you're missing out on:
WordPress.com Stats
While there are other plugins that allow you to collect and view stats about your blog. WordPress.com Stats is known to provide the most important metrics about your blog in a clean and pretty interface. Plus, it doesn't put more load on your server, a huge advantage if you're experiencing slow loading times.
WP.me Shortlinks
URL shortening services are pretty much everywhere these days and that's because they let you share cleaner and shorter links. Jetpack lets you shorten your blog post URLs even before you leave your blog to share your entries on social networking sites or via email and SMS. Actually, you don't even have to leave your blog to share your posts thanks to another Jetpack feature: Sharing.
Sharing
This feature allows you to share your posts with a range of services including Twitter, Facebook, Google+, StumbleUpon, and more. You can even define your own custom services. You can customize how the service buttons will appear on your blog, which includes the option to display smart buttons.
Contact Form
Similar plugins can provide more customization options in terms of functionality and design, but if you want  a simple yet still customizable contact form builder, there's nothing wrong with relying on Jetpack's Contact Form feature. Additionally, if you have Akismet running on your blog, messages that are sent through this contact form feature will be filtered through the spam-fighting service.
Spelling and Grammar
This feature uses the After the Deadline service which points out your errors and provides smart suggestions to correct them. You can customize how this feature proofreads your posts from your profile page. You can either go hard on yourself or take it easy by turning off some proofreading features. The bottom line is if you're not very confident about your writing skills, you can have this feature check your work before you publish it.
Jetpack has other features like extra sidebar widgets, shortcode embeds, Gravatar Hovercards, VaultPress, subscriptions, and more coming soon. Aside from VaultPress, all of the currently active features are free to use.
Take note that some of these features may interfere with similar plugins you already have installed, so check your installed plugins before installing this one. Jetpack for WordPress will also let you know if there are plugins that may be affected now that you've strapped it on.
I've been using Jetpack for almost a year now and I think it's a must-have especially if you want to get the most number of features with as little effort as possible.