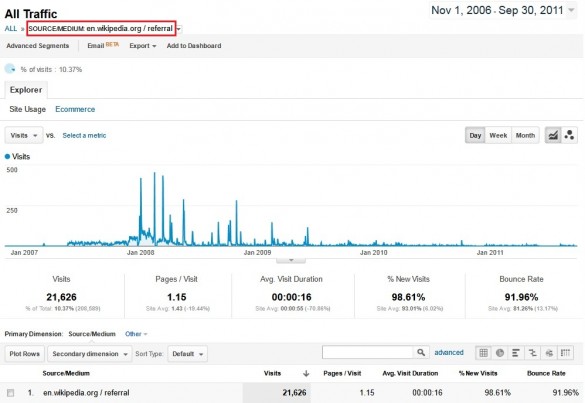 If you have been working on blogs for some time or had spent some time in blog sphere you must be aware about the ratio of successful blogs when compared with total number of blogs that are created. I would say there are very few blogs that are able to build lots of targeted traffic over the period of time and become popular. I have been working on blogs and website creation and promotions for more than 7 years now and in this duration have gained knowledge about how to increase traffic to a website.
From today guest post, I will be sharing 10 tips that will help you drive lots of targeted traffic to your blog and website from search engines and other sources. From this guest post, I will try to answer some basic questions like how to bring traffic to your website or best ways to increase traffic to a website etc. Frankly speaking there are lots of ways we can actually use to build targeted traffic to our blog. It's also true some techniques which work for me may or may not work for you. I himself have noticed, I got 400 plus visits from a single guest post on some occasions while sometime I end up getting 4-5 visits only from a guest post which is also published on a popular blog in my niche.
So the idea will be trying various traffic building techniques and stick with those that really works for you.  But still there are some traffic generation methods which work for most. So I will be sharing those tips only that should help you in driving lots of targeted traffic to your blog:
Write High Quality and Write Quite Often

First and most important thing you should do is write high quality and targeted content on your blog.  You must have something new to serve when people return back to your blog. People will stop visiting your blog if you are finding the same old content every time. You need to be very active towards targeted content generation for your blog. So whichever niche you are working on, you should be ready to write lots of targeted and comprehensive contents for your blog readers. Every time you write about a new topic, there is every chance your blog can be show up on Google and other search engines for related terms.
Make Your Blog Contents Search Engine Friendly
If you are looking at free ways to increase traffic to your blog, then you have to depend upon search engines most of the time. And for that you have to make your blog contents search engine friendly. There are lots of things you could do to make your blog contents more search engine friendly. First of all, whenever you are writing a new topic, you should have some targeted terms or keywords in mind for which you will be optimizing that topic. You can use Google Adwords Keyword tool to get lots of search terms related to your base term. Once you have 1-2 targeted keywords at least which will be working in your latest post, you should look at using the targeted keyword in your post title, Meta section, few times in your actual content and as an alternative text with image that you will be using with your textual content. You should use targeted keywords in way that they look natural and should be adding value to your original content.
Share Your Blog Contents on Social Media Websites
Next thing you need to do is share your latest blog posts on major social media websites. You should add buttons or icons for major social media websites like Facebook, Twitter, Google Plus, StumbleUpon, Digg and Delicious etc. in your blog posts. These will not only help you in easy submission of latest posts on these networks but will also motivate your blog readers doing the same for stories of their interest. Social media submissions has become even more important keeping in mind the fact these days social media signals has lot to do with your website organic rankings on Google search at least. Here is a screenshot showing 700 plus visits that I get from StumbleUpon in the last one month time for BloggersPassion.com blog.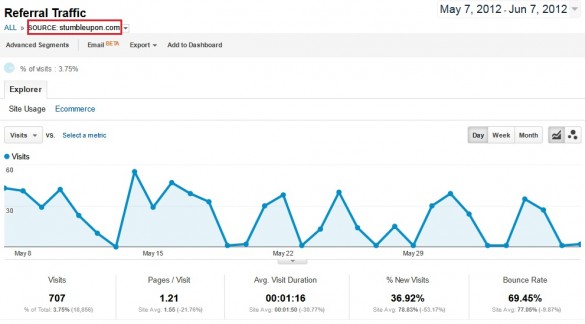 Contribute Guest Posts
It's time to show your blogging skills to other blog owners and their readers. You should collect a list of blogs in your niche that are accepting guest posts. In case you are finding it hard to get targeted blogs for guest blogging, here is the list of 100 plus blogs that accept guest posts. You can use this list to get in touch with blog owners in the blogging, make money online, SEO, Social Media, Affiliate Marketing, Technology, Health and Travel etc. niche's. Once you have the list, it's time to contact them with your guest posts. You should go through the guest blogging guidelines before submitting your guest post for review to a blog owner. Since you are writing high quality guest posts, most of them they will get accepted. Lots of guy do guest blogging for link building only. But that's not true; guest blogging has many more benefits. And most importantly you can expect some instant traffic to your blog as your guest post goes live on a popular blog in your niche. Here is a screenshot showing 273 plus visits that I got from a single guest post I wrote for MaxBlogPress.com in one week time only after publishing of my guest post. Over the period of time I have so far got 450 plus visits from that single guest post only.
Since you have the list of active blogs in your niche, you should subscribe to their RSS feeds in a feed aggregator. I'm using Google Reader to keep track of new posts coming on blogs of my interest. Apart from guest blogging, you should start contributing your expertise through comments there. Commenting on targeted blogs will help you drive targeted traffic, backlinks and most importantly exposure for your blog in the blogging community of your niche.
Use Yahoo Answers and Similar Portals
You should find some targeted categories of your niche in Yahoo Answers kind of question answer websites and start replying to user questions with the best of your abilities. You can even think of adding a link for your blog in the resource section in some of your answers to help questioners find more information about their queries. I received good amount of traffic when I last tried it for one of my niche blog. Here is a screen showing the kind of traffic I was able to generate from Yahoo Answers website only. While working on such websites, you aim should be solving people problem and no spamming them.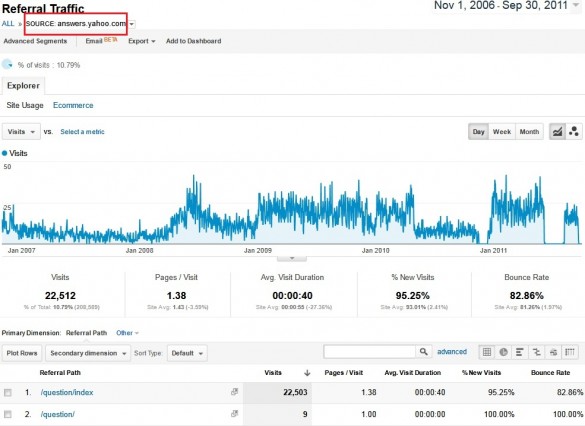 Use Wikipedia.org type of Trusted Websites
You can even drive traffic to your blog from Wikipedia.org. Most of the time we used to link Wikipedia website in our blog contents as reference. You could create topic around your brand or your skills on Wikipedia. Since you are blogging about a specific niche and is producing comprehensive content, so there must be some topics on your blog that are matching with the topics list found on Wikipedia. You could add few links for those posts from Wikipedia pages in the References or External Link section. In the last I tried on some occasions and most of the time it worked for me. Here is a screenshot showing the amount of traffic I get on one of my niche blog from Wikipedia.org website.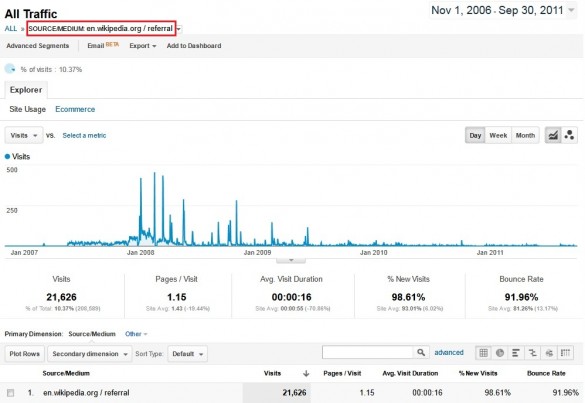 Create Topical Pages on Squidoo and Hubpages
You can use Squidoo and Hubpages type of websites for creating topical contents. Since these websites are highly trusted by search engines, so you can expect good amount of traffic coming to your main blog from these websites. On Squidoo we used to create lenses and on Hubpages, we create hubs. When you start working on these websites, you will not only attract traffic from search engines, but these websites also have their own reader base who directly hit these websites for finding information of their interest.
Do Standard Link Building Activities
it's not only good content which will help you win this search engine race. You need to back your good contents with high quality backlinks. Apart from guest blogging and blog commenting, you can follow standard link building practices like article submissions, demographic and niche specific directory submissions, social bookmarking submissions, discussion forums, communities and classified websites etc. for backlink building.
Run Contests on Your Blog
Different people have different motives behind running a contest on their blog. But most of motives ultimately results in improved traffic on their blog. Some blog owners run guest blogging contest to attract guest bloggers on their blog. More content means for traffic on your blog from search engines. If you are running a contest to improve your presence on Social Media websites like Google and Facebook will result in more traffic to your blog from these networks.
It would be interesting to know how you guys are driving targeted traffic to your blog, please share your views and if any question in the comments section.
Author Bio
Anil Agarwal blogs about blogging tips, seo tips, best WordPress web hosting companies, social media networks, affiliate marketing and traffic building tips for bloggers and website owners on BloggersPassion.com blog. He also runs a small SEO consulting firm at SeoBricks.com