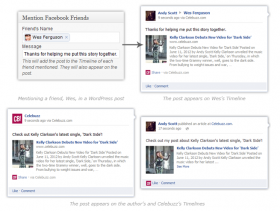 Yesterday, Facebook announced the launch of a new WordPress plugin that makes it easier than ever to integrate Facebook into your site.
Though integration has always been possible, it's been a bit of a headache requiring a mashup of plugins and/or coding to integrate with Facebook's notoriously verbose and complex API.
The new plugin makes integration easy. With a few minutes of setup and no coding, WordPress users can now add a social publisher that blasts their posts out over their feeds and fan pages, replace their WordPress comments with Facebook's alternative, add a recommendations bar that finds related posts and also add like, subscribe and send buttons.
The plugin is both so powerful and useful that Samuel "Otto" Wood, the creator of the popular Simple Facebook Connect plugin, will eventually stop supporting it in favor of the official plugin.
But is integrating your site so tightly with Facebook really a good idea? The answer isn't simple and it depends heavily on your site and the best way to decide is to look at the pros and cons while making the decision for yourself.
The Case in Favor
Facebook has, by most estimations, about 900 million monthly active users and over 500 million daily active users. You will be hard pressed to find someone who does not have a Facebook account available to them and, despite issues with its IPO and a survey that found users were spending less time on the site, a recent study by Comscore found that, once you factor in mobile usage, time spent on Facebook is still growing.
In short, Facebook is a behemoth of a site and one that most people either use regularly or have access to readily. Therefore, by integrating with Facebook, you aren't likely turning away many of your readers. In fact, you're likely making it easier for readers to interact with your site, by giving them the chance to log in, leave comments and otherwise participate with an account they already have.
However, integrating with Facebook gives you a great deal of features from easy sharing that encourages others to spread your work to their friends, a powerful commenting system that is almost completely spam free since only Facebook accounts can use it and the ability to have you and your site both subscribe-able so casual visitors will stay in touch for a long time to come.
This opens up a lot of great opportunities for promoting your site on Facebook and using it to reach a new audience.
Also, with the new Facebook plugin, you can introduce social sharing to your site, sometimes called "frictionless sharing" so that people are putting out articles on their feed as they read them (Note: The user has to select to turn this on) and give users recommendations on what they should read next so they are more likely to stay on your site when they are done reading.
In short, Facebook can be a major part of your marketing and promotional efforts, helping to make your content more viral, more sticky and more approachable to others.
However, these advantages come with a darker side and, on that front, the biggest problem that Facebook likely has is its own reputation.
The Case Against Facebook
The biggest problem that Facebook has is that it simply is not very trusted. Facebook has a history of controversy over its privacy policy and much of that centers around how Facebook has been accused of tracking people on other sites, namely sites that integrate Facebook into their offerings.
To make matters worse, Facebook is also deeply personal for most people as it uses their real name, hometown and other personal information. Those who want to remain anonymous, or even pseudonymous, can't use Facebook.
So, even if your readers do trust Facebook, they may not be willing to trust you and your site with that level of intimacy. This could be especially difficult for sites that are in fields where people want their information kept private, such as sites offering medical and financial information.
Finally, you can get many of the benefits of Facebook integration without having to partner so closely. You can create a fan page, use a Like Box and even add various sharing buttons without getting overly involved with Facebook or forming a more permanent connection.
In short, it's very possible Facebook integration could scare off your readers and, even if it doesn't, it might not be necessary at all.
Bottom Line
So should you integrate your site with Facebook and, if so, how far should you go? The answer really depends on your site and your audience.
If you have an audience that demands privacy, security and/or anonymity, Facebook integration is a bad idea. It can seem invasive and inconsiderate to anyone concerned with those matters.
For more casual sites, integration might make sense. It can be a great way to help your site reach a new audience and encourage sharing while not putting a major burden on your readers. It can also add some new features to your site that might be compelling to readers, especially those already heavily involved with Facebook.
But then comes the most important question, is Facebook someone you want to partner with over the long haul? That's a difficult question and it's made thornier by the fact that, while Facebook is a juggernaut with no immediate signs of stopping, it's recent troubles do show weakness in the company's armor and, even as it continues to grow in numbers, its popularity seems to be declining.
This is especially true since Facebook has had so many struggles in the area of mobile, enough to encourage them to spend $1 billion to buy Instagram. It feels to many as if Facebook is behind the curve when it comes to the next evolution of the Web.
Combine that with Facebook's tendency to make unpopular changes, such as their privacy policy shifts, powerful competitors, including Google, and general distrust, it's easy to see why many wonder if Facebook isn't already an empire in decline.
Indeed, the release of its WordPress plugin may not be an example of a rising tide lifting all boats, but rather, of Facebook trying to buoy its own ship.