Twitter, like other forms of social media, is a lot of fun – so much so that it can be addictive. Most people can't go more than a few hours without checking their Twitter profile, and so it was only a matter of time before it was converted into a means of producing business results in an increasingly online-oriented market – which applies to every niche.
As a blogger, you do more than run a website for your personal enjoyment. Such formats are the new form of Internet business, and even when you are dealing with an entertainment genre, you are running a new kind of business venture. Just looking at how bloggers have become such a major part of information sharing should show you how serious it truly is.
That is why Twitter should become your best friend when it comes to marketing. You can use the social media giant to greatly reduce the work involved in targeting your chosen demographic.
Targeting your local audience with Twitter is an important means of establishing a connection to what is near and dear to your blog. Here are a few tips on how to do it.
Know the Tools
The first thing to keep in mind is that a whole lot of Twitter tools have been created for this very purpose – so many that it would become a long list pretty quickly if I took the time to list them all here. So I am going to point you in the direction of one, though keep in mind there are plenty to choose from.
SocialBro is sort of the new big kid on campus, thanks to some massive contracts with companies like Chevrolet, Dunlop and Dell.
If that wasn't impressive enough for you, its heavy feature list should be. It includes a local database customizable for your community, a manager for unlimited Twitter lists, an automatic community map, a follow-back and unfollow-back tool, full analytics about your follow community and more.
You can get both a desktop version and a Chrome plug-in.
Know Your Followers
Demographics can be deceiving. Popular Twitter accounts and brands associated with social media don't get that way naturally. They figure out to which choir they are preaching, mostly through research into those who are following them.
Reading profiles of your most dedicated followers is a good way to start. Or you can just go through and see from where it is they hail. You might also want to see their interests, ages, genders – anything that they might have in common that could point to their interest in your brand.
This can be time-consuming, but it is really worth it. Luckily, with a tool like SocialBro you can better isolate the basics like location almost immediately. That will save you a lot of time and energy in figuring out what your local market really is.
Know That Following Is a Positive
This is an important one that is way too often ignored. You can't just rely on people to follow you; you have to show some returned interest. All that this requires is finding out who is more active on your follow list and returning that follow.
If you can create a core network of active and popular users with a heavy follow list, you immediately increase your own visibility – all while making a vital online contact that can provide mutual support.
Know Your Twitter Lists
Yes, SocialBro and other programs have a good list manager. But they are aimed more at purely local activity and might not give you the stretch you need. That is why it is better to create a secondary dashboard that is more socially optimized for monitoring your Twitter lists.
HootSuite is probably your best bet here. Though, if you want something more in depth (or you own a small business), Cyfe may be more your style. Still somewhat new, Cyfe has created a good all-in-one system that offers a bit more than other dashboards.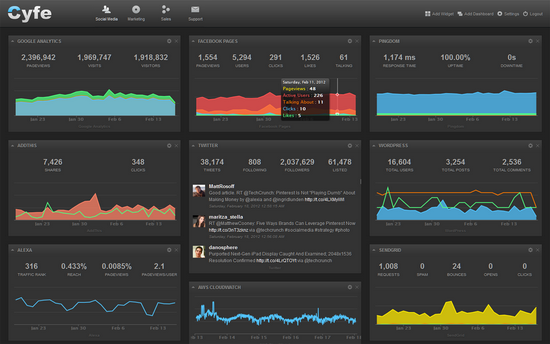 Conclusion
You don't have to waste as much time as you once did targeting your local audience. All you need is a few tools and resources, and there is no better way to utilize them then through Twitter. So get started today and watch the effect it has on your blog!
Tom Chu is the SEO manager at PsPrint, Chicago commercial printing company specializing in business card and poster printing among other popular services.