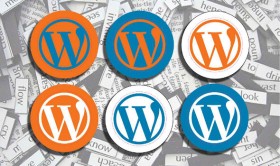 With its ease of use and versatile approach to fulfilling each individual's needs WordPress opens the doors to the virtual universe.  As most of you know WordPress is the very popular software that allows each of us to install it, make mistakes with it and get it working again and again. With that in mind understand that you're still moving forward, even if you're falling on your face. This article offers the top ten most downloaded security plugins for WordPress.
My Top 10 Selections for 2012 of the Most Downloaded security plugins
1.   WP Security Scan – raises the level of the security for your Thesis theme for WordPress installation. It does this by scanning your site for security issues then suggests the methods you can use to fix them.
2.   WP-MalWatch – is designed to alert you when hackers have invaded your blog. When hackers do get into your WordPress blog site, they infest your site or blog with links to their sites. When you know they have invaded you can take the necessary actions to remove them from your world.
3.   WP Secure plug-in – provides security for your WordPress installation by hiding your plug-in directory and WP version from hackers and others. This is important to do because the cyber scum that inhabits our virtual world use the version and the list of plugins to locate one that they have hacked before to hack their way into your blog!  Add this plug-in to protect your website or blog.
4.   Website Defender WordPress Security plug-in – free and comprehensive security tool that helps you secure your WordPress installation and offers suggestions for strengthening your passwords, securing your database, and lots more
5.   Akismet – program that checks comments left on your blog or website to see if they appear to be spam and then allows you to review the spam it does catch through the blog "Comments" admin screen. Akismet comes pre-installed and once you apply for and install your API key you will find the controls for it in your options panel in your Dashboard.
6.   BackWPUp – plugin that backs up your WordPress files and database and store them wherever you decide.  You can schedule automatic backups and pick out which folders and tables you want to backup.
7.   CAPTCHA – adds anti-spam methods to WordPress on all your forms, comments, registrations, lost passwords, logins, or you can actually require a code for everything on your site.
8.   Exploit Scanner – strengthens the security for your WordPress installation by scanning your site for security vulnerabilities and suggesting methods in which you can fix the problem.
9.   BulletProof Security – security protection against: XSS, RFI, CRLF, CSRF, Base64, Code Injection and SQL Injection hacking and on and on. Like the name says, it protects against attacks of all kinds.
10.  Better WP Security – This really is the easiest way to secure your WordPress site. You can improve the security of your WordPress site in seconds.
I would urge a bit of caution when it comes to downloading and using third party plugins. No offense is intended to any of those folks. WordPress is only able to stand behind those plugins that they test prior to offering them to WordPress users. That means that you are on your own when you use something other than what WordPress offers. Proceed with caution.
Now that you have some idea of what the security plugins are all about don't hesitate to spend some time – now – installing that security into your site. Doing so will provide you with worry-free time, time that you can use creating more content for your site!  Either you run the day or the day runs you. – Jim Rohn
About The Author
David Crawford has been working on the internet since 2003 and found early on that he really enjoys research and soon discovered that a research hound such as himself makes an excellent freelance writer as well.  As a huge fan of WordPress and the StudioPress themes he has worked within the WordPress Dashboard for years adding content for clients such as ShopWPThemes and writing Professional WordPress Themes reviews.