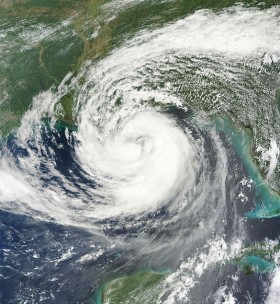 To be honest, last week was a pretty rough week for the city of New Orleans. The landfall of Hurricane Isaac bringing powerful winds, heavy rains and strong storm surge to the area, the city was, to put it simply, a disaster.
While it may not have been a catastrophe on par with Hurricane Katrina seven years ago, it was still a powerful storm and one that more people stayed for due to fact it wasn't seen to be as great of a threat.
What resulted was a city roasting in a hot bayou summer without power, A/C or even adequate ice. Couple that with flooding issues around the city itself and an emergency response that was seen as less-than-swift, the city felt like a disaster zone, perhaps more than it actually was.
But in the middle of it all, I realized that my work as a blogger was serving me remarkably well during these trying days. When one usually thinks of disaster skills, they typically think of survivalists capable of living off of the land.
However, disasters, even extreme ones, don't unfold the same way in the digital age as ones just a few years ago. Your skills with Google may be more useful than knowing how to desalinate water and, if you're a blogger, you likely have many of the skills needed to help make any disaster more bearable and more survivable.
Here are just five examples of how.
1. Google-Fu
Contrary to popular belief, not everyone knows how to use Google, especially now how to use it well.
In a disaster, information is power and between cell access and wifi hotspots, even in dire situations you can likely find some, perhaps fleeting, Internet access. Knowing how to turn that access into information is crucial.
Where is ice being distributed? Where are shelters open? Where can I get medical attention in an emergency? To get this information you need to be able to search for it and fast. Neighbors can be a great source, but these days the information will likely be online well before it reaches the family across the street
2. Social Networking
From a technology standpoint, the biggest change I noticed from Hurricane Katrina in 2005 to Isaac in 2012 was the presence and importance of social networking.
In 2005, I had to rely on scant news reports, neighbors and one lone blogger covering my area for local information. With Facebook and Twitter I was in constant contact with friends, family and even strangers. Even Reddit's r/NewOrleans community became a vibrant place to get information before, during and after the storm.
As a blogger, you probably are very comfortable with social networking and use it daily. Likely, your networks are already strong and you're able to use it in a moment of need.
Social networking made it easy to find out who needed help who was able to give it and connect those people in a P2P way, easily besting any government efforts.
Social networking is already a blogger's friend and it becomes more so during a disaster.
3. Mobile Technology
Odds are, if you are an active blogger, you're already familiar with mobile technology. You're comfortable with your smartphone, whatever kind it may be, and can do a great deal from it without much prodding.
Social networking, email, searching and even entertainment are all crucial things that you can do with a smartphone and familiarity with it is crucial. After all, a disaster is not a great time to be learning how to use your most basic tool
More than that though, you're likely familiar with how to keep your phone running smoothly including, most importantly, relevant charging accessories. It's amazing how many people wait until after a disaster to try and obtain a car charger or backup battery for their phone.
In short, your phone, as well as your tablet, laptop and other mobile tools are familiar to you and are ready to be used.
4. Creativity
Bloggers tend to be a creative group of people and creativity serves one well in a disaster. The ability to think of new solutions and improvise is crucial.
For example, our battery backups died within hours of losing power, leaving us with no means of charging phones other than our car. However, our car jump starter turned out to be a great tool, even having a USB port, that lasted through the entire storm and extended outage after.
A little enginuity, along with some duct tape, can go a long way to improving your safety, comfort and overall condition during a disaster, it certainly helped mine.
5. Thick Skin
There's no doubt that the Web is full of mean-spirited people and if you decide to put yourself out there as a blogger you're going to face a great deal of criticism, just and unjust. If you don't develop a thick skin through it all, you're not going to be a blogger very long.
It's amazing, and sad, how useful that becomes in a disaster. As temperatures rise, inconveniences grow and frustrations mount, tempers flare.
It's bad enough having to wait in line, in the heat, for over 30 minutes for the priviledge of buying ice, but to have angry people yelling at you in the parking lot, crowding you in line and generally trying to make a bad situation worse, you need to have patience and an even temperament.
If you have a thick skin and you've learned to keep your cool in stressful situations, you will be a lot better off. The ability to laugh at a situation rather than getting angry about it is another bonus.
Bottom Line
The simple truth is that, in the modern age, disaster survival doesn't mean the same things it meant just twenty years ago. Information is crucial and, as a blogger, you use the most important information-gathering tools available every day.
That being said, it's important to remember the importance of human cooperation and interaction. Don't get so lost following your friends on Facebook that you forget about your neighbors across the fence. Don't get so lost cleaning out your inbox that you don't help clean out your streets or drains.
Though the tools that help you survive a disaster are increasingly becoming digital, disasters themselves still happen in the physical world and you need to take care of the people and things around you too.
You may be the first to learn something because of Google or Facebook, but share that information with the people around you, focus on cooperation rather than competition.
If you can do that, a disaster can become a much more bearable situation for you and everyone around you and, as the saying goes, a rising tide lifts all boats.
The help you give can only make your situation better.