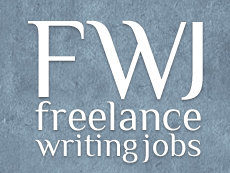 Splashpress Media, the network behind BloggingPro.com, BlogHerald.com, Apple Gazette and other top niche destinations on the web has announced a new freelance writers guest post forum through the popular freelance writer website FreelanceWritingGigs.com.
Writers interested in creating a portfolio of content for their own use can visit the FWJ content FORUM and then examine various website writing opportunities under the  Looking for a guest author section.
SPM is currently offering various opportunities from Apple Gazette, BloggingPro, 901AM and various other websites on the network. More website opportunities will also be posted in the future.
After guest posts are submitted they are chosen for publication by a SplashPress Media editor. 
Basic Post guidelines
Every guest posting opportunity will have specific guidelines, but to give you an idea, here are some basics that we expect:
Unique content. No ifs or buts. We all know the importance of unique content, and we will only use original entries from writers.
Quality rules. More than offering original work, please ensure that what you put up is of high quality. Think of your readers, and make sure that they get added value from reading your guest entry.
Link to previous content. We ask that you link to a related post found in the site that you are writing a guest post for. This is easy enough to do – just use our on-site search for relevant content.
Maximum 1 link/125 words. We realize that you may want to link to your own pages and other work, so we are not averse to links in our guest posts. We do ask, however, that you observe this limit.
No unethical links. Speaking of links…please do not abuse the ability to drop links in the guest entry. Unethical sites, software, commercial, and keyword unrelated links are not allowed. Also, please do not use cloaked or shortened links.
Guest Post Considerations
Make sure your posts are well structured with focus on a specific topic. Browse the site you want to write for and gather an understanding of the content generally published. Also be sure to separate content sections with bold headings (such as the headings shown in this post).
Copyright Images
We do ask that guest writers follow copyright laws and only submit posts that use creative commons licenses. Writers are asked to include at least one picture for setup space. Here are a few helpful sources for creative commons images:
Please be sure to provide correct attribution at the bottom of your post. For example [Image via Photopin].
With your content you will receive proper accreditation and a link to your own projects which should help your web presence by showcasing your awesome ability to write quality guest posts.