There are a lot of blogs about films, but there aren't a lot of films about blogging. Oh really now? Blogging is not some obscure afterhours hobby, blogging is almost like tweeting, almost like breathing, everyone knows what blogging is. At some point in time, the status quo has taken its thoughts to tumblr, blogspot and WP.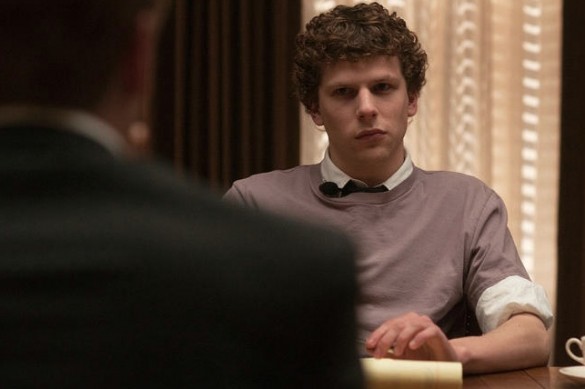 People have written down their daily musings online, with enough drama and flair to make their daily rants a viable screenplay for a movie. But truth be told, there aren't a lot of movies about blogs or blogging, there's only 1 mainstream movie about a blogger and it happens to be a food blogger who caught the eye of Hollywood. With blog posts so good that Meryl Streep signed up to star in it and yes, that blogging movie is Julia & Julia. All about a food blogger's ambitious feat to cook Julia Child's 524 recipes in 365 days with some kitchen meltdowns thrown in the batter.
So what if bloggers don't make good cinematic fodder? At least, we're not butchered off like some horror trope in the next Saw 3D sequel. The internet however has ubiquitiously made itself indispensible to most Hollywood plotlines. In the past decade or so, and ever since the advent of the web in the 90s, the technology and geek culture associated with the internet has made its way to the silverscreen.
Here are some films about technology and the internet:
Trust
Our beloved Ross from Friends, David Schwimmer directs this millenial drama that digs into parental paranoia and Datelinesque internet predators. Forget about making an informed decision about your child's web habits, this film is unsettling enough, and as an afterthought, its never a good idea to give your tweener a MacBook Pro for her birthday.
Downloading Nancy
Makes me think the screenwriters of Downloading Nancy had spent much of their time at 4chan and maybe even getting dates at Craigslist.
Untraceable
Forget Dianne Lane, Colin Hanks nails it here as a token CSI nerd. Hollywood nepotism will indeed get you a very fine sulfuric seat at the movies. Wink, wink.
The Social Network
Fincher does the Zuck's biopic to which the Facebook overlord points out that the only thing the movie got right was his wardrobe, "Every single shirt and fleece they had in that movie is actually a shirt or fleece that I own." Well, that's Startup couture for yah!
The Net
One of the earliest films about the web, pretty much a technophobic flick about really bad software and Sandra Bullock's bad luck vacay.
The Matrix Trilogy
A badass and groundbreaking anime-inspired trilogy about technology, code, simulation, robots and the future of underground rave parties. Hey, who hasn't seen the Matrix, anyway?
Swordfish
Swordfish proves that you can easily break into a highly-secure site if you have a gun pointed to your head while some chick is blowing your mind out with her non-computer skills. Ridiculously entertaining especially if all a hacker ever does is hit 'enter.'
You've Got Mail
AOL has it's branding all over this, the movie also marks the end of Meg Ryan's romcom era.
Hackers
Don't watch it for the cheesy 90s screen interfaces, do watch it for the early performances of these hot stars and be smitten by a very young Angelina Jolie with her ex-husband 'sickboy' aka Johnny Lee Miller.
—
The author is a film blogger and a big fan of movie trailers