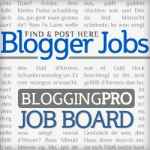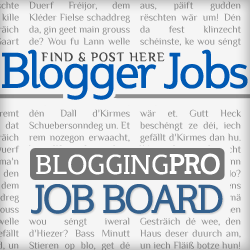 It's been a long week for me, and I am looking forward to putting my feet up this weekend. How was this week for you?
If you're still on the hunt for gigs to add to your schedule, take a closer look at the highlights from this week's Job Board. Best of luck!
The World Land Trust-US was established in 1988 to save rainforests and other threatened tropical habitats that are critical for saving the most endangered species. They are in need of a writer who holds the same beliefs as they do and based in Warrenton, VA. This is a great job for a cause, which can help you make a living as well.

Sleep and wake up on Facebook, Twitter, and Google Plus? Know all the ins and outs of social networking? Apply for this part-time position based in Sherman Oaks, CA.
If you have your own blog focusing on design and decoration, then you might be able to earn some money on the side. Suxeedo needs bloggers with their own blogs, regardless of location. Get in touch with them now!
How serious are you about the movies you watch? Do you always have an opinion that everyone in your circle look forward to hearing? Check out this telecommute movie review writing gig. You might be perfect for it.
Sports writers based in Marysville, CA should get in touch with TCN Press for a lively gig covering high school sports. It's part-time, and you get to to cover other community sports activities as well.
Author:
Noemi Tasarra-Twigg
Editor of Splashpress Media, writer, and geek bitten by the travel bug.