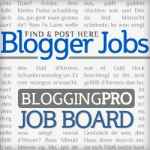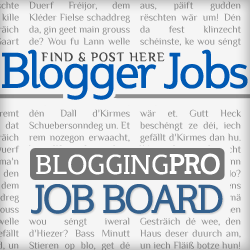 Good morning, everyone! How did February go for you? I don't know if it's just me, but there seemed to have been a lack of jobs in the past month. Let's hope March brings us more.
Here are the highlights from this week's Job Board.
Got 20 hours a week to write articles based on current trends and breaking news? You don't even have to get out of bed to do this. Just make sure you are able to follow company writing guidelines.

Are very much aware of the world that is beyond your national borders? Do you like dabbling in international affairs news? This gig will pay well if you're the right individual. Give it a go!
If you've been in the SEO writing business for a while, and you don't mind not seeing your name in the byline, check out this telecommute gig.
Kids in Crisis, a children's agency in Greenwich, CT, needs a part-time grant writer. Here's your chance to do something worthwhile with your writing skills!
Guns.com, an online firearms publication, needs a part-time news writer who can put up pieces on a daily basis. You have to know about guns, of course, and comfortable writing about weapons as well.
Author:
Noemi Tasarra-Twigg
Editor of Splashpress Media, writer, and geek bitten by the travel bug.