At first glance, it may seem that the boom of image-based sites like Instagram and Pinterest doesn't have that big of an impact on writers. After all, you're a wordsmith, not a graphic designer, so the above-mentioned apps and websites don't really belong in your department, right? Wrong.
Just because you communicate more with words rather than pictures, doesn't mean you can't leverage the power of images to market your content, gain exposure, and reel in more clients. As you'll find out in this article, there are a number of online tools out there that will enable you to join in on all the Pinterest, Instagram, and Timeline fun—even if you're not a skilled designer or artist.
Online Image Tools for Writers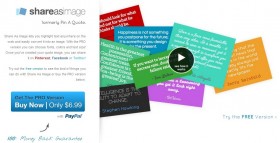 Share As Image – This is a great tool for sharing the quotable quotes and best parts of your articles. Share As Image is a browser plugin that lets you create a pinnable image of any text on a webpage. Simply highlight the text that you want to pin, click the Share As Image bookmarklet, and the plugin will generate a Pinterest-friendly graphic that you can share with a click of a button.
Share As Image has a free version that lets you generate basic images from text. If you want to customize the fonts and colors of your images, you can download the pro version which comes complete with customization options, image previews, and more.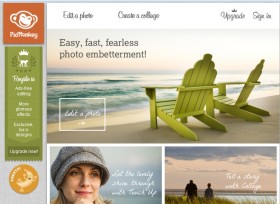 PicMonkey – This is hands down the most user-friendly online image editor I've encountered. And I'm pretty design-challenged, so that's saying something. PicMonkey is an uber simple tool that lets you edit pictures, create collages, and generate images from scratch. You can insert clip art, add speech bubbles, and even apply filters to spice up photos.
I've personally used PicMonkey to create graphics for my articles to make them more sharable on image-driven sites. For instance, this particular image that I created for my blog not only generated new traffic for my site, but it scored me a guest post invitation from another blog at the same time.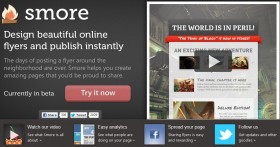 Smore – Need to create flyers or posters for your business? Don't go running to a graphic designer just yet. Instead check out Smore, a tool that allows you to create interactive flyers with just a few clicks. Even if you don't have an eye for design, you'll still be able to create gorgeous graphics thanks to the site's templates and color palettes that are beautiful by default.
I used Smore to create a contest poster for my Facebook page, back when it was still new and in need of fans. I have to say, it worked like a charm. Having a cool-looking graphic allowed me market the contest well and helped my page gain a lot of new fans, one of which ended up being a regular client.
Try 'Em Out
Some writers may have reservations when it comes to using image-driven tools and sites in their business, and that's perfectly understandable. After all, we're not exactly in our element when talking about Facebook Timeline, Pinterest, or Instagram.
However, while these sites may be a little out of your comfort zone, I encourage you try them anyway. Because the fact is, your audience, clients, and prospects ARE using these services, and that alone is reason enough try them out for your business.
On top of that, mastering these sites and apps will make more valuable to clients, especially those who want to be more aggressive on social media. As the rise of the image-based web continues to progress, I guarantee you that being proficient in graphic-driven sites like Pinterest and Instagram would be an excellent addition to your resume.
Francesca is the founder of CredibleCopywriting.net and specializes in writing blog posts, web content and press releases for startups, Internet companies, and mobile app developers. She's currently developing Copywriting 2.0, an online course that teaches aspiring copywriters the ins and outs of the biz. Visit her site to register and get notified once the course launches.