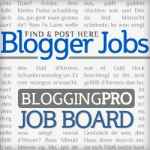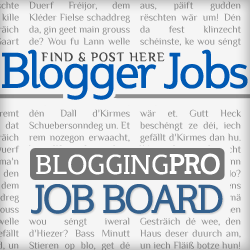 Happy Friday once again. Here's to an awesome weekend ahead!
Here are the highlights from this week's Job Board.
This gig is for passionate auto enthusiasts who can write decently. You need to have your own voice backed with expertise on the various subjects covered by the blog. This is a telecommute position.

Bloggers who are knowledgable in print/web/graphic design, listen up. If you are in the UK, and you want to earn good money, DBP wants you! Marketing and business knowledge a plus!
Are family, tradition, and food important to you? Can you do research and write about these topics? This writing gig pays well, especially if the post is rather complex and requires lots of research.
OneLouder is looking for a freelance writer who knows his way around the mobile industry. This telecommute position requires lots of knowledge about app development and mobile marketing. You will be provided outlines for your work, so you'll have the direction you need.
Can you talk about servers, storage, switches, and other data center equipment in your sleep? Do your friends look at you with blank faces once you get going? Why not put that knowledge to good use and apply for this online writing gig?
Author: Noemi Tasarra-Twigg
Editor of Splashpress Media, writer, and geek bitten by the travel bug.