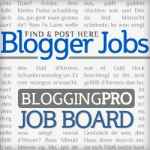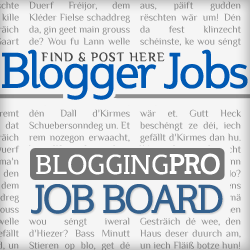 Did you guys miss us last week? We just took the long weekend off, but we're back on track. Here's to a good weekend ahead, short as it is.
Good luck with the jobs!
Write Recruit, a top marketing agency is looking for work from home writers who can work either part-time or full-time. You can decide how many articles you want to write each month, and you get paid anywhere from $9 to $12 per piece.

This gig is for Sydney-based writers who want to make a little bit of cash on the side. If you like expressing your own opinion in your writing, and you like writing about technology-related topics, try this gig out.
Beyond the Arc, a consulting firm, is looking for writers who can help out with projects. They are looking for writers who can work with high level material and topics and translate them to easy-to-understand pieces.
Women's fitness guest bloggers are needed by a startup to prepare for their launch. There is also a possibility of future collaboration once the startup gets off the ground.
Startups seem to be everywhere, and here's another one looking for writers who can crack other people up. If people keep telling you you're funny, then maybe you ought to start making money out of it. Why not give this a go?
Author: Noemi Tasarra-Twigg
Editor of Splashpress Media, writer, and geek bitten by the travel bug.