Digital online conferencing for collaborative meetings has never been easier. Agencies and startup teams have the ability to communicate with each other regardless of their physical locations. This means it is possible to work with a myriad of designers, developers, writers, and managers from all around the globe. Webinars provide the tools for people who need to communicate efficiently over the Internet.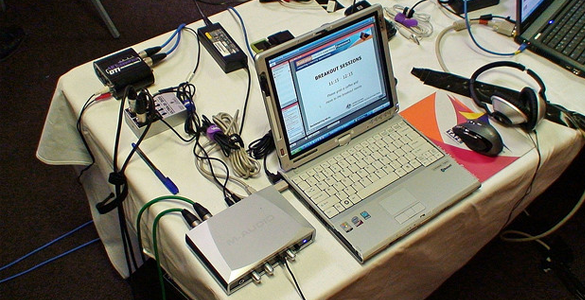 It can be a tough process getting accustomed to how it all works. But I am hoping to present a few resources for newcomers to quickly learn the ropes. You will need to spend time practicing the software and learning all the various interface components. But it can be a fun and meaningful way to communicate with people from the comfort of your home or office space.
Detailed Research
For those of you who are not familiar with Internet conferencing I want to reference this great SlideShare presentation titled "What Is a Webinar, and How Can You Use It?". Definitely a great introduction for people who have never used web conferencing software before. The tools and interface features are generally all the same. So once you know how to connect and setup a meeting, all the other stuff will come naturally with time & practice.
Another resource worth mentioning is Best Webinar and their online list of product reviews. The website is dedicated to staff picks for software about webinars and web conferencing services. You can organize reviews by the top 10 providers or browse through listings on your own. You want to ensure the monthly price is not out of range for what your company needs. The biggest providers have well over 90% ratings and you will find mostly all the same typical features.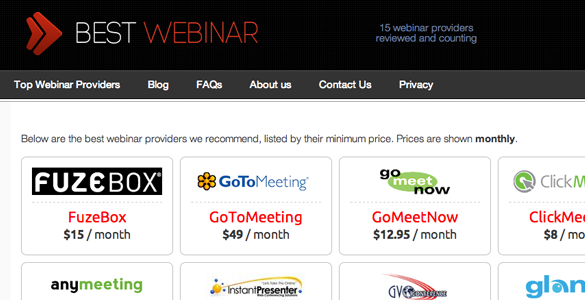 When you are looking for new tools the best software to utilize is Google. Performing a quick search around the web for related keywords will surely present a number of helpful results. One of my favorite articles on Hongkiat goes more into detail about popular web conferencing tools. I can say there are definitely some alternatives out there, but this article provides a great roundup for people who are trying to decide on a service provider.
Choosing a web conferencing provider should be a detailed task. Take a look through their website and screenshots gallery. Determine if you can see yourself using their product and growing accustomed to the design. It will probably not be your most widely used application. But when you are on a conference call it is crucial to make sure your provider will be able to handle everything without bugs or errors.
Further Reading
If you need to check out some other blog articles online then searching through Google is always a good choice. Additionally the Best Webinar blog has frequent post updates with vital information for new users. I would definitely recommend going through their archives to find excellent tips and tricks. The staff members are very knowledgeable and you may be surprised at how much good information is already out there.
Ultimately it is your choice for picking the best solution to handle webinar meetings. It will take a bit of demo testing and research to whittle your options down to just a few favorites. After picking a couple of providers you will have plenty of time for gauging UX design, software features, support, and other critical facets. If readers know of any outstanding webinar providers feel free to share with us in the post discussion area below.