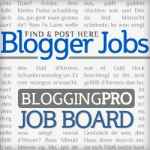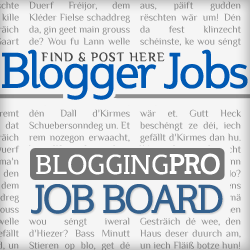 Good morning! Here are the highlights from this week's Job Board. Here's to hoping you snag one or two!
Grant writers in the Henderson, NV area, listen up! A small business is looking to get a health & fitness grant, and they need someone qualified to write it up.

A mobile marketing solutions company based in East Bay is looking for a copywriter. You'll be responsible for webpages, email campaigns, video scripts, direct mail, whitepapers, newsletters and executive presentations that will increase product awareness. The position is offsite.
Nimble Media is looking for writers to work from home, writers who can commit to writing at least 5 articles per day. The position can be part-time or full-time.
Another remote gig, which is great if you can make people laugh with your way with words. If you can write lists like those you find on Cracked.com, you're probably perfect for this!
Blacktie-Colorado is looking for freelance photojournalists who are good at writing and also can take photos at fundraising events. If you're friendly, polite, and can write great pieces, go for!
Author:
Noemi
Editor of Splashpress Media, writer, and geek bitten by the travel bug.