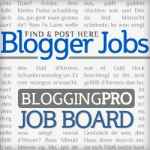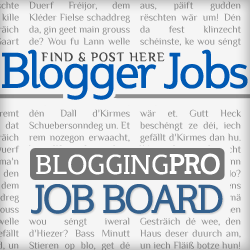 Hi, everyone! Here are the highlights from this week's Job Board. If you want to receive this – and all the other great articles served up – every week in your Inbox, don't forget to sign up for our newsletter! (See the homepage.)
Are you a blogger who uses Google+ more than Facebook? Do you have more than 2,000 followers on the platform? If so, Reputation Changer wants to talk with you.

Organic Media Group is an American company which provides guest blog content for their clients. They need guest bloggers who have experience and are willing to work from home.
Are you always keeping tabs on major tech developments related to groups such as Facebook, Yahoo, Google, etc.? If you can write with a UK audience in mind, this online gig will suit you.
The Chicago Dispatcher, a monthly publication, needs a freelance writer to cover mobile booking app news. The required hours are dependent on monthly demand, and they want someone with a journalism degree or professional writing experience.
This copywriting position is open to freelancers in the Central New Jersey area. While the gig is fully remote, there might be a need for on site meetings from time to time.
Author:
Noemi Tasarra-Twigg
Editor of Splashpress Media, writer, and geek bitten by the travel bug.