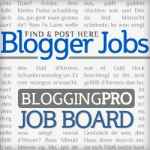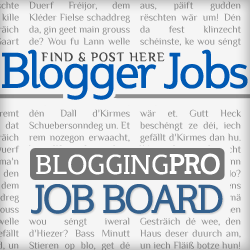 Good morning, everyone! Thank you to those who participated in our recent giveaway. Keep your eyes peeled for even more, in the next couple of weeks!
In the meantime, here are the Job Board highlights for the last week of June. Have a good one!
Do you love DWELL, BHG.com, and Apartment Therapy? Or use Pinterest pictures as blueprints to renovate your living room? Get that obsession to work and earn something for your efforts. This telecommute position is waiting for you!

Do you have 10-12 hours a week you're wasting? Do you consider yourself a geek and a more-than-decent researcher? If you're also into Kickstarter, then this telecommute position is for you.
Some people can only write about specific topics, but there are bloggers who can move whichever way and write about practically anything. If you're this versatile, and you're looking for a gig, a content marketing company wants you in their team!
An art magazine needs offsite freelance writers for journalistic reports in the niche. You need to have experience. Writers from specific cities worldwide are preferred. See ad for more details.
NerdWallet is looking for writers who can research, develop and write content on various topics such as personal finance, media, banking, education and travel. One thing: you need to have a BA in Liberal Arts (or working towards one).
Author:
Noemi Tasarra-Twigg
Editor of Splashpress Media, writer, and geek bitten by the travel bug.