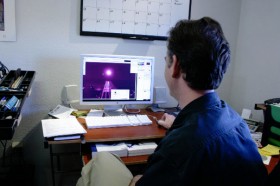 For many bloggers, the desire to become a professional is driven out of a desire to work for oneself. to be in command of one's own life and be self-employed.
On the surface, it sounds like the dream job. The commute is just a hop across the hall, you can set your own hours, work when you please and do something that you're passionate about for a living. What could be better?
Well, as someone who has been living that reality for the past five years or so, I can safely say that working for myself is the best job that I've had and that all of those things are true.
However, it's also a job that has trade offs. While the commute and flexibility are both great, there are definitely things about it that aren't so great. In addition to the pitfalls that you should definitely strive to avoid, there are a few things about it that, quite frankly, stink and there isn't much that you can do about it.
With that in mind, here are five reasons why working for yourself can be great, but it certainly isn't perfect.
1. Inconsistent and Irregular Income
If you are working for yourself, and not merely working for another company from home, you are essentially running a small business, even if that business is just selling your services.
But being in business for yourself means that your income becomes more irregular. Instead of getting a paycheck every week or two weeks, you get paid when invoices get paid, whenever that is. That means you first have to find work, sign a deal, complete the contract, send the invoice and get the payment.
In short, even if you have a lot of business coming in the front door, it can be impossible to know when the next actual check will be in your hands.
This can make financial planning and saving difficult and it can be very frustrating knowing that you are flat broke but have thousands in invoices you're waiting to be paid on.
The one good thing from a financial stability perspective is that, where you can get fired from a regular job and lose 100% of your income almost immediately, that's not likely to happen working for yourself as you hopefully have other sources of revenue to fall back on.
Still, that's small comfort when you're waiting for your invoices to be paid or struggling to find new business.
2. You Get Multiple Bosses
While the self-employed love to talk about being their own bosses, the truth is that you trade having one boss for having multiple bosses.
For example, if you're in a client-oriented business, your clients are your new bosses. Running ads on your site? Your readers, the search engines and your advertisers become your new bosses.
No matter what kind of work you do or how you make your money, there will pretty much always be multiple entities that you have to answer to. Sometimes, your "boss" isn't even a person, it can be something as simple as Google's algorithm or a provider's terms of service.
The real problem is that these different bosses often pull you in different directions, wanting seemingly conflicting things, creating a lot of new stress.
3. Loneliness
If you work by yourself, you're probably spending 8 hours a day (or more) alone. While I admit that there were times in the past that my coworkers drove me crazy at my office jobs, after a few years of working in relative solitude, I find myself missing the interaction.
It can be tough working alone so much and only communicating with teammates via email and phone.
While you can start working out of a coworking space to make this easier, sometimes those spaces aren't affordable or practical. In fact, there are many areas where there isn't one available.
But even if you can use a coworking space, that may not completely solve the problem as it is a very different dynamic being in a room with other people working on their own projects versus a team of people working together. While you can still make some great friends and socialize, it doesn't completely emulate the workplace experience.
4. Pressure and Uncertainty
When you work for yourself, the pressure is intense. Your ability to eat, pay rent and survive is based solely upon your how well you earn money. This can be nerve-racking and cause a great deal of anxiety.
That, in turn, can lead to a lot of problems down the road including poor work/life balance as you're always struggling to feel more secure.
There's no easy way to relieve this pressure. Even when your business becomes stable and you are comfortable with your income, there's always a bevy of "what ifs" that you have to answer and plan for.
In short, there's almost never a sense of comfort with your job and it can be a constant source of pressure and uncertainty. Even when things are going great, it's impossible to relax and rest on your laurels.
5. Future Employment
If you're thinking about leaving your self-employment to go back to a traditional job, it might be easier said than done.
No matter how busy you've been working, the things you've accomplished and the proof you have of your efforts, transitioning back to traditional employment is difficult for a lot of reasons.
First, self-employment creates something of a hole in your employment history. While it's not the same as being unemployed, it can be tough to convince some employers that you had a real job and that you build skills at it. Second, if you've been on your own for a while, many employers will consider you someone who is better suited for self-employment and will be eager to return to it when they can.
However, even if you do find a job, the transition can be tough, even more difficult than the one that saw you working for yourself to begin with.
In short, working for yourself isn't a short-term job you can walk away from, it's likely a long-term commitment, one that goes beyond mere employment and affects other areas of your life.
Bottom Line
So is self-employment bad? Of course not. If it is a good fit for you and the work that you want to do, then it's a great choice. But bear in mind that it's not a perfect arrangement and there are drawbacks.
When I made the transition from working traditional jobs to working for myself, partly by force and partly by choice, I didn't really know what to expect. Five years later, I'm still not 100% sure what to expect.
It's been a long, difficult road working for myself but, ultimately, I feel it has been rewarding, giving me the chance to do work I'm passionate about and help people who otherwise wouldn't have anyone to turn to.
Still, there are some days I pine for a regular job, one with a set schedule and a designated set of duties.
If nothing else, it would be nice to know that I'm getting paid on Friday and how much I'm getting. Would make it a lot easier to know how much I have to spend…