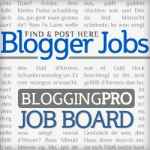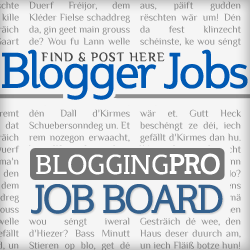 How's everyone doing? Aren't you glad the Job Board is back to normal?
Here are the Job Board highlights from this week. Have a great weekend!
Know everything there is to know about Apple products, news, and rumors? Got your own opinion about everything that's said about the company and its devices? Go for this telecommute blogging position, and make your mark in the Apple niche.

If you're familiar with New York City real estate, and you spend your weekends online, then The Real Deal wants you. They need a weekend blogger who can write short blog posts when everyone wants to go outside and play.
NYC based, 100+ year old purveyor of antique and custom frames is looking for a professional, freelance writer to draft short articles for our annual newsletter. Must have experience writing for the visual arts.
If continuous, offsite work is what you need, then you'll find this listing interesting. Deliverables will include social media, radio spots (script writing), video (script writing), website, direct mail, financial education articles and anything else that comes up. Versatility to the max!
Not exactly a writing job, but definitely one for the WordPress enthusiast. If you know this platform by heart, and you can set up a blog from scratch, then go for it!
Author:
Noemi Tasarra-Twigg
Editor of Splashpress Media, writer, and geek bitten by the travel bug.