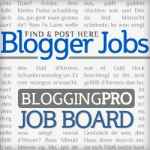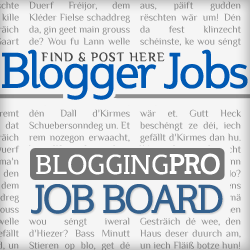 Good morning, folks! How was your week? I hope you're looking forward to something good this weekend.
Here are the job board highlights for the week. Good luck!
I think that everything Brazilian is beautiful, even the language. If you're fortunate enough to know Brazilian Portuguese, then this gig could be interesting for you.

Do you live and breathe social media? Do you know numbers well? If you have accounting/finance experience, and you can write well about it, then this offsite position is waiting for you.
Can you write tips, tricks, how-tos, guides, top 5, etc. and tech news? dotTech needs a tech writer for daily production. Offsite position.
Mobile Internet company is looking for a freelance Blogger to write/publish interesting ORIGINAL posts about UI/UX design mobile internet related topics. Must have prior relevant experience, be able to provide insight to readers, and have research, writing and editing skills. Must be witty, have a clear writing style, and be available Mon-Fri.
Acclaimed ghostwriting firm BusinessGhost, Inc.–as seen on ABC's Shark Tank–is looking for freelance writers with a background in business and/or finance. Writers will work closely with accountants, financial advisers, insurance agents, and retirement planners to craft 50- or 100-page "minibooks," conducting a series of brief interviews and then using the material to produce clear, concise chapters.
Author:
Noemi Tasarra-Twigg
Editor of Splashpress Media, writer, and geek bitten by the travel bug.