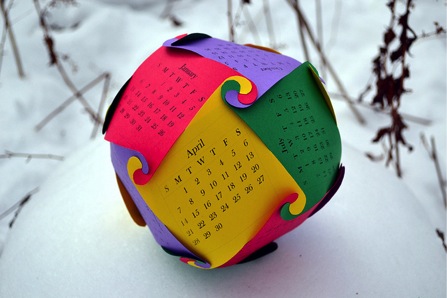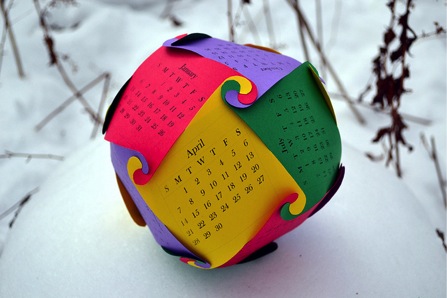 Image credit: Philip Chapman-Bell
Maintaining a blog successfully can be a challenge. It requires you to be organized and responsible, because as soon as you finish with one post, it's time to write the next! However, even the most professional bloggers eventually find themselves getting off-schedule, staring at a blank word document with no ideas about what to write next, their deadline quickly drawing nearer. And what's worse, with all the focus aimed at the writing process, there's hardly any time to spend on growing or connecting with your audience.
Thankfully, there is a way to make all of these difficulties disappear for good, and that saving grace comes in the form of Google Calendar. With Google Calendar, bloggers can create an all-purpose editorial calendar to plan out their blog posts, tweets, Facebook posts, pins, Google+ posts, YouTube videos, infographics and practically any other content you can think of in advance, making the writing process much easier since they will already have an idea about what they are writing and ensuring that all material is posted to the blog at the proper time.
First Things First
Before building your calendar, it is time to start brainstorming. Think up as many ideas for your posts as you can, even if many are about similar topics. You can worry about spreading them out later. However, making a list of ideas can be a tremendous asset in making sure that you don't fall prey to writer's block at a time when you need to be producing a post.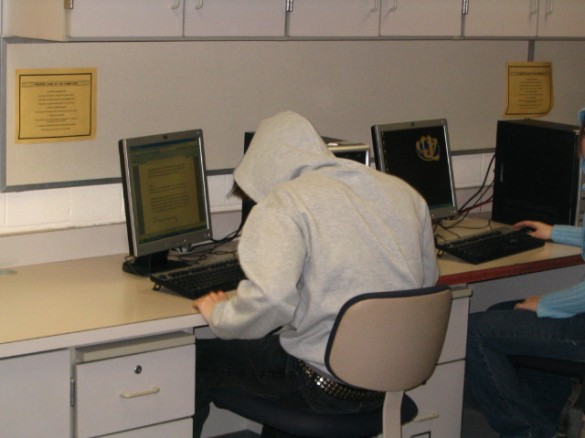 Image via Karen Chichester
Then, whenever you have time, write. Write three posts in one sitting. Write write write. Fill a weekend with writing. The goal is to get super far ahead on your posting schedule so that you have a little more time to promote your posts in the future. Then, once you're ahead, you can keep writing at the pace you were before.
Don't just write your blog posts – write the social media promotions to go with them! Craft a series of tweets to promote each post, as well as Facebook posts. Put together compelling images to include and pin.
The Importance of Consistency
For a blog to thrive, it needs consistency. Whether you add a new post once a day or once a week, it should be uploaded on a consistent day and perhaps even at a consistent time. For example, a blogger who posts three articles a week should do so on particular days, say Monday, Wednesday, and Friday, as well as at a specific time, such as noon. This gives readers the ability to determine exactly when new material will be posted. You don't have to work out the exact days and times from the start, though – experiment, posting at different times to see when you get the best response.
An editorial calendar is an essential asset in making sure that a consistent schedule is maintained, as it allows users to set posts to upload automatically at the desired time and date. Similarly, if one runs a website that posts different material on each day, such as an article every Monday and Wednesday, a video every Tuesday, and a contest or survey every Thursday, an editorial calendar can plot out exactly when to post each thing, in addition to displaying the various topics clearly. This tool gives you a visual overview.
Though scheduling posts to upload automatically lifts the pressure of having to remember on your own, there are certain posts that cannot be programmed to do this, such as contests and time-sensitive news. For these manual posts, you can set a reminder to notify you when it is time to upload them. You can do this simply by clicking on the event in Google Calendar and filling out the necessary information in the Reminders section. Additionally, one can easily rearrange the order of scheduled posts to accommodate a time-sensitive topic, and your calendar will tell you exactly where you need to go to change the pre-scheduled shares so they don't happen before you're ready.
Starting a Calendar
With Google Calendar, you are able to create multiple calendars, each with a different purpose. This gives you the option of viewing each one individually or having them all overlap in one single calendar. Having the ability to create multiple calendars allows you to keep your personal schedule and your blog's schedule separate, or in the case of someone with multiple blogs or occupations, you can create a calendar for each. Google also gives you the option of using color-coding, a tool which can make sorting your blog posts much easier. For example, if you want to be able to differentiate between completed posts and ones that are still just ideas, you simply make each a different color.
Creating Entries
Each entry in your calendar is like an event. It has a time and date that indicates when it is to be uploaded and a name that should be indicative of the post's title. However, on Google Calendar there is the added feature of the description box. This is an excellent resource, as it allows users to keep all of their information for that particular post together in a place where it can't get lost. Such information could be a detailed outline of the post or just a list of ideas, links and, in the case of something like an interview, addresses and phone numbers. Such material would be a horrible thing to forget or misplace, and storing it within the blog entry on your calendar allows you to access it easily from just about anywhere.
Just as the description box allows you to keep track of ideas and information, the attachment option enables you to include any pictures or videos that you want to include in your post and don't want to forget about. These recourses can help bloggers plan the details of a post in advance in an organized fashion. Got lots of ideas? Schedule out the next couple months of posts and promotions on your blog!
As an example, here's a post and some scheduled promotions:
The posts are color-coded to show what they stand for. Blog posts that are already written and scheduled out are green; if you have an idea for a post that you have not yet written or scheduled, you can make it yellow. The social promotions for that post on each site are in colors corresponding to those sites. This looks great, but just putting it on my calendar doesn't do anything – now you need to actually schedule these things.
The Nitty-Gritty: It's Scheduling Time!
WordPress, or whatever blogging tool you use, has a pre-scheduling feature built right in. When you enter the draft mode, your scheduling options are on the right side:

Click "Edit" to enter the scheduling mode: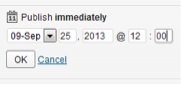 From here you can schedule your post for whenever you like.
Hootsuite is a free online scheduling tool and Smartphone application that links with your Facebook, Twitter and Google+ page and gives you the ability to schedule your posts and upload them directly to the desired page. While great for posting updates and easy to access, it is not an ideal platform for responding to Facebook followers, so be sure to monitor from within the actual social account.
HootSuite was made for scheduling ahead, and the vast array of scheduling tools at your disposal is proof!
Viraltag (formerly Pingraphy) allows you to pre-schedule pins on Pinterest, something Pinterest does not currently allow you to do natively, and keep a record of their progress, tracking their shares and likes. However, you can't pre-pin YouTube videos and it can only be used for original pins, not repins. This is a paid tool but they offer a free trial.
The scheduling tools on Viraltag allow you to bulk upload images, filter and touch them up, and then give them a description. From there you can choose what board to add them to and what time to pin them. In a bulk upload, you can even just set the pins to stagger, posting every few minutes or hours.
For example, here are some pins that Mosquito Magnet is pre-scheduling for their Pinterest page: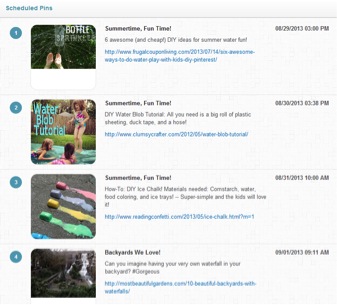 Scheduling their pins in advance has given Mosquito Magnet the ability to easily build their audience among people who want to enjoy what's left of summer without the nuisance of mosquitos.
Facebook actually allows you to pre-schedule posts in advance. All that is required is for you to indicate in the post the time and date you wish it to be published. You can even schedule a post for a date that has already past, and it will appear in the desired location on your timeline.
Click the clock icon to get a series of drop-down menus for when you would like to schedule the post.
Regardless of what system you choose to utilize, an editorial calendar is truly the most useful device for someone looking to manage a website or profile with as little stress as possible. With the ability to automate your posting and provide clear lists of topics for upcoming posts, such a tool is truly an indispensable asset.
Adrienne Erin is a blogger and freelance writer who is attending an online school with a specialization in PR and social media marketing. To see what she's up to, follow her on Twitter at @adrienneerin.