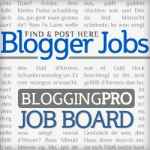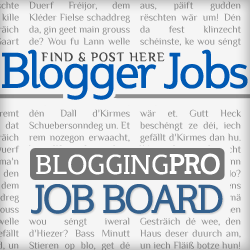 Good morning, everyone. Here are the job board highlights for the week.
Have a good weekend!
1776 is looking for writers to help aggregate and produce original, short form content on our website. Subject matters include health, education, energy, smart cities as well as other highly regulated industries and how they relate to startups and tech.

Affluxury seeks advanced technical & creative copywriter to join our team for freelance and intermittent projects. Pay is per project.
An established Apple blog is looking for a new team member to work part time as a researcher and PR representative on a new section of the site that will be a collection of finished products within the Apple niche from Kickstarter.com. This section of the site will feature such products from successfully funded Kickstarter campaigns such as video/computer games, Apple accessories, iOS/Mac apps, t-shirts, board games and anything else related to this niche.
A financial credit institution needs a B2B Marketing Copywriter with strong technology/finance experience.
You will take existing documents and rewrite them with more polished verbiage specific to the analytics/finance/tech industry.
Writers who know about/have gluten intolerance or Celiac's disease, this gig is for you! You can be based anywhere to apply for this gig.
Author:
Noemi Tasarra-Twigg
Editor of Splashpress Media, writer, and geek bitten by the travel bug.