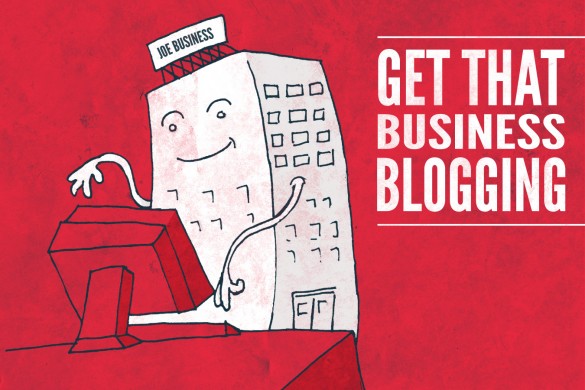 Are you looking to promote your business and gain a larger customer base? If so, why not set up a company blog?
Setting up a company blog is a low-cost investment with a potentially high return, which is why almost every company that wants to succeed should have one.
Here are just a few of the ways that a blog can boost your business.
A blog gives a business authority
Your business blog should contain more than just a few updates on what your company is doing, It should also contain articles that relate to your company's industry.
These articles can be used as resources by others, which will mean more web traffic for your company. More important, they will give readers the impression that your company is an industry authority. You will have no trouble attracting new customers if your business develops a reputation as a leader in the field.
For example, a family looking to hire a landscaper might be debating between a few different companies and decide to look up more information on landscaping before making their decision. If your company is one of the ones they are considering, and their search turns up educational materials on your company website, that raises the chances they will choose your company for the job.
Higher search rankings
The more useful content a website provides, the higher the search rankings it will receive. A blog that provides lots of useful content will get your business's website to show up better in search results when potential customers search general construction terms. This increases the likelihood they will visit your website and eventually hire your company.
An example of this would be when a person is looking for information on places to buy pizza. There are lots of pizza places in the area but your site shows up in the top three search results when your city's name and pizza are searched, because of your restaurant's blog.
Most people don't look at search results beyond the first few that turn up, so your site's high ranking increases the chances that they will order pizza from your restaurant.
Free press
By running a dedicated blog for your business, you will be able to interact with people interested in using your services via the blog. A business blog allows potential clients to have some exposure to the company before picking up the phone, which also gives customers a more personalized sense of their relationship with the company.
For example, if a person is looking to hire a construction company for the project and they have already read your construction company's blog, your company will be among the first they think of when trying to decide who to hire for the project.
Get blogging, for the sake of your business
If you want your business to succeed in today's market, it needs to have an excellent and unique web presence. A blog with original content provides visitors with information that will keep them coming back for more, while also imprinting your company's name in their memory.
However, a boring blog will not attract visitors and may even discourage people from making use of the services your company offers.
If you aren't sure about how to set up a great blog for your business, try checking out one of the many "How To" guides for setting up a blog online. Alternatively, if you want to save yourself the trouble of writing your own blog, you can look into hiring someone to create and maintain your company's blog for you.
Regardless of how you choose to generate it, if you make sure your blog is interesting, engaging, and fun, your business can only benefit from it.
Author: BloggingPro