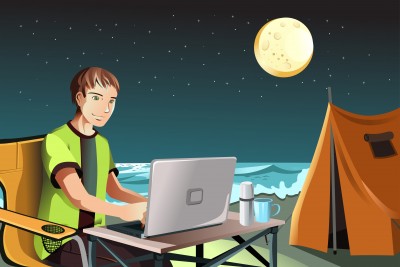 Nature is wonderful. One of the best things to do with nature is go camping in it.
Say you've just returned from your third camping adventure; now what? You remember the feel of the breeze blowing through your hair, the way the leaves crackled under your feet as you looked for firewood. Your senses are reeling from all that nature has to offer. But all of a sudden you realize: the trip is over.
Now you're back home and surrounded by your work. You may feel the urge to write about all you learned while on your camping excursion. Maybe you kept a journal, took loads of pictures, and even shot some video clips. As you look through your camping experiences and read about your adventures, you get the perfect idea.
Why not blog about it! Blogging is the perfect way to share experiences. If your business involves blogging, then you'll want to find ways to write about your experiences that will interest and benefit your reader. With your camping blog, you can also experience your trip all over again and in a whole new way.
There are three basic tips on how to blog about your camping adventures. Check them out below.
1. Document your adventures
With apps on your smartphone, you can actually talk about the adventures you are having while you experience them. If you're about to embark on a canoeing adventure, you can post a small snippet of information before it begins, and then a full blog piece afterwards. You can even include photos and video footage.
This information will both interest your readers and educate them on basic information about your adventure. The information is always helpful when your audience may be curious about certain camping activities and wish to embark upon such an adventure themselves.
2. Updating
Keep a blog diary. One way of successfully blogging about your camping adventure is at post step-by-step updates on your activities. It doesn't matter if you are just sitting around the campfire or taking a hike; posting updates at various intervals during your trip will keep your audience involved.
Nothing keeps the interest of readers like a blog diary of an adventure. A video diary is also a great way to add a new perspective on things. Videos and photographs help the audience really get the feel of the experience in a vivid way. (They also can reduce the amount of writing you have to do to describe what you saw and did!)
3. Reviews of equipment
A blog is a tool for learning, and with your blog you can teach your audience many things about camping. Not only can you keep a diary, and talk about your wilder adventures in the great outdoors, but you can also write reviews on various camping equipment.
As you use your equipment, talk about how well you think the tools work. You might want to mention the brand and what the tool is made of. Discuss the main function of the tool and let your audience know whether or not you recommend it for other camping trips.
Writing blog entries that consist of or include reviews of camping tools is a good way to help other consumers decide whether or not to invest in particular camping equipment, such as campervan hire services. This is not only helpful but can also be very entertaining if done the right way.
Your camping trip doesn't have to end when you arrive back home. The adventure was only part of the fun; blogging about your trip will help you to re-live your experience and share it with the world while educating other folks in the process.