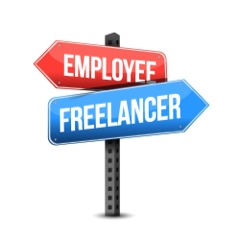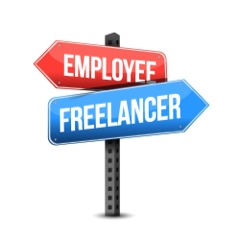 So maybe the Great Recession has been unkind to you, and you lost your full-time job and have been unable to find another. If you're flexible and smart about it, you can look at this as a terrific opportunity, rather than a disaster.
If your talent lends itself to multiple purposes, then it might be time for you to join the next wave of employment – the freelancers. Not tied to one employer or one job only, freelancers can work when, where, and how they want. They can work only one gig, or multiple gigs. They can work part-time or full-time. And best of all, they call no one "boss" except themselves.
The Age of the Freelancer?
Freelancing in general and the amount of freelance writers is on the rise in the United States, with approximately 33% of workers today not tied to any one employer. Many are freelancing by necessity these days, but lots of people, including yours truly, are discovering a love of the freedom and flexibility that this kind of career offers.
And soon the issue of health insurance will no longer be a problem. People who clung to traditional jobs simply because they needed the employer-provided heath insurance will be free to choose a provider through the new federal exchanges, and with health insurance uncoupled from employment, independent contract positions will become even more appealing.
Not all Fun and Games
But freelance blogging is not for everyone, and it's not easy work. Certain qualities will help ensure that a freelancer finds as much work as he desires, and there are definitely challenges that everyone will encounter.
But the following tips, from experienced freelancers, can help you overcome any fears or problems that may crop up in your path.
Finding Clients
One of the first challenges is locating clients. Whether you're a blogger, an artist, a programmer, a marketer, or something else, you need to find someone who wants your work and is willing to pay for it.
There are lots of ways for you to find jobs, but you also want to make sure that employers can find you.
You need to set up your own blog. It will basically be a marketing site for you, for your services. You should explain your background, why you are qualified to perform certain services. Set up a portfolio where potential clients can view your past work. Maybe explain your pricing, if you want to make sure to avoid dealing with people who will want you to work for cheap. And give clear instructions on how they can reach you.
Along these lines, you need to hit social media and use clever tactics for your self-marketing. (And if you're billing yourself as a social marketing expert, that goes without saying!)
Getting Paid
One of the most delicate issues in any job is the issue of payment. Make sure you negotiate your payment with your freelance clients up-front, before you do any work at all. If you're working with a new person, you may want to require half of your payment in advance. This is a good way to make sure you aren't hounding the client for weeks after the job is finished.
Getting partial payment in advance is also critical if you have to purchase supplies in order to perform your job. Try to limit your out-of-pocket so that you aren't the one who loses if the client refuses to pay.
And if you ever have a client who balks at paying and gives you a hard time, cut him loose. There are plenty more out there who will recognize your worth and will not make you debase yourself in order to get paid what was agreed.
Getting More Work
The key to getting further work is to deliver: make sure you deliver your blog posts on time, and make sure your deliverable is at least the quality that was expected. Above and beyond always helps. If you've pleased your client, don't hesitate to ask for follow-up projects. Also be sure to ask for a testimonial, which you will then post proudly on your self-marketing site. And ask your client for referrals – many small business owners have plenty of associates who might need your services.
Be Ultra-Organized
Remember, now you are in business for yourself. You have to be your own accounting department as well as your sales department and your production department.
Keep careful track of income and expenses. There are a lot of items that can be deducted when it's time to file your income taxes, so be sure to be familiar with them.
And with this much flexibility, you may find that you need to schedule yourself very tightly or risk floating off into the ether. When you have 24 hours in a day and no set schedule, it's sometimes difficult to draw lines. You may find yourself working only a few hours and then doing personal stuff the rest of the time. Or conversely, you may find yourself working 20 hours a day, with no time for yourself at all. It takes discipline to find the balance, and stick to it.
It also helps if you make use of the numerous tools and automation methods available for bloggers, so that the overall workflow from writing your content to publishing it is eased.
Sure, it can be hard. But the rewards of a freelance lifestyle are so much greater than the few drawbacks. After nearly two years of the freelance life, personally I find it hard to believe that anyone would actually want to work a traditional job. I know I never will again.
The article was written by Audrey, who is a freelance blogger currently writing for Wallace, a Studio City CPA serving the Los Angeles area.
Author: BloggingPro