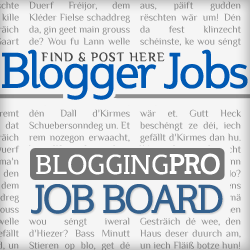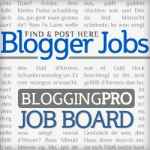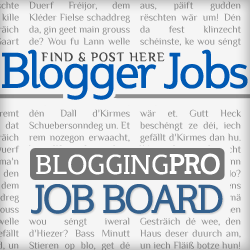 I hope you all had a good week, and that you're looking at a nice end to September.
Here are the job board highlights for this week. See you next Friday!
Publish sponsored guest posts and earn anything from $1 to $500 per published post.
As a blog owner you can set your price, thus you will only get offers which will fall in your publishing criteria. Every campaign and every article is moderated for quality before the offer reaches a blogger – so even if you opt. for publishing free guest posts on your blogs, you can still be sure of its quality.

The Republican is seeking freelance writers for news, feature and sports stories. Be part of Western Massachusetts' largest and most comprehensive print and online source for news and information. Your work will be published in print in The Republican and online at MassLive.com.
An officially-licensed NASCAR publishing company is seeking accomplished freelance feature writers. You must already have experience covering NASCAR. They want Charlotte-based writers mainly, but they are open to qualified writers from anywhere.
An agency needs a copywriter with experience working on campaigns/clients specifically marketed towards Spanish audiences. If you speak Spanish, you're probably in. You need to be able to occasionally go to Sacramento for meetings.
A website dedicated to covering Africa from a business perspective is looking for freelance writers to contribute articles on African economy, entrepreneurship, development, real estate, innovation and technology.
The compensation ranges from $100-$200 per piece depending on the story.
Author: Noemi Tasarra-Twigg
Editor of Splashpress Media, writer, and geek bitten by the travel bug.