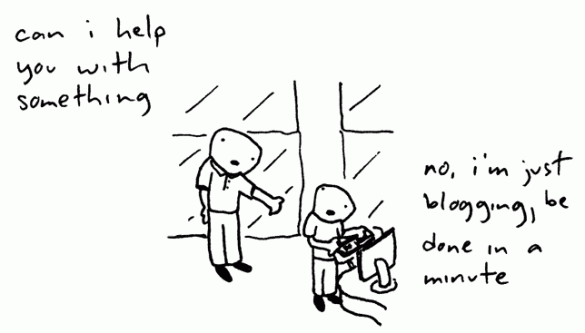 One of the greatest advantages of the Internet is that it gives everyone a voice. You don't need qualifications, experience, or credentials to get thousands of people to read your writing.
The right turn of phrase on the right day, with an eye-catching title and the perfect thumbnail picture could be enough to make your blog spread like wildfire. But even in the untamed wilderness that is the Internet, there are some rules.
To give you a boost, here's a crash course in responsible blogging.
1. Know your audience
There's little point in slaving over the perfect blog post if you don't know a thing about the people who are likely to read it. How old are they? What industries do they work in? Will they know what you mean when you say "3g" and "Android" and "apps"? To establish a blog and make it a success, take the time to understand who your audience is, and what they want to read.
2. Think ahead
A bad blog is one that is constructed one entry at a time. You don't need to plan your blog out months in advance (or maybe you do, depending on your business), but as a blogger, you should know what your next five or six entries are going to look like, whether or not they're written yet. Successful blogging takes a surprisingly long time, and your deadlines will get the better of you if you're constantly just one step ahead.
3. Plan for changes
Concurrent with rule #2 above, it's also smart to be ready to change your blogging plan at the drop of a hat. Conditions change, new trends pop up, and businesses need to adapt to stay on top of the action.
Your blog will look embarrassingly behind the times if everybody's talking about a hot new topic — and you're not. You can always return to your plan once the trend cools, but you'll want to ride the wave when it breaks.
4. Outreach
Before you can enjoy thousands of readers, you've got to get word out. It's naive to think that if you write it, they will come; you've got to tell everybody it's there. Use social media — Facebook, Twitter, LinkedIn, Reddit, etc. — to announce to the world that you've got a blog. The more outreach you do, the more readership you'll get. The equation couldn't be simpler.
5. Consistency
Readers expect blogs to be reliable — not only in content, but in presentation. One of the advantages of having a blogging plan (see #2, above) is that it help you keep your blog posts regular. A sure-fire way to lose readers is to have no set blog schedule. Whether you post weekly, fortnightly, or once a month (depending on your readership demographics and industry), sticking to a plan is probably more critical than establishing one.
Blogging is not very different from everyday living. Making intelligent decisions, choosing between what's good and what's not, adjusting to fit your lifestyle, and changing for the better are all important in making your blog more reader-interactive.
Author: BloggingPro