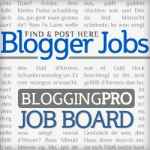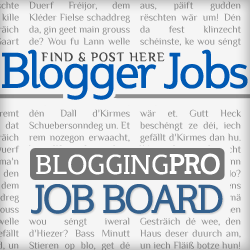 Good morning, everyone! Here are the job board highlights this week.
Have a good weekend!
Established tech blog now looking for long term blogger to produce short (150 words + image) posts on interesting, funny, unique or innovative gadgets and/or tech. Pay is $4 per post. If you're up to posting up to 2 entries a day, go for!

WhoTrades is a financial brokerage firm and social media platform for financial traders worldwide.
They are seeking bloggers to contribute informative, engaging content to their website. Positions are available for individuals with little experience in financial markets, as well as for experienced financial traders.
The studio is looking for someone to create 4-8 posts per month. They would like someone with experience in the photography industry, marketing and relate-able blogging. They are a specialized studio, with 90% of clientele being boudoir clients – demographihcs, affluent women aged 20s to 40s, single and married, most are mothers.
If you're a gaming guru – real or self-proclaimed – and can write all about the latest gaming news, as well as provide exact details on games, pricing, and so on, News for Shoppers wants you.
Danielle LaPorte, Inc. is are looking for a rockstar Copywriter and Content Editor to add to their core team. This is an entirely virtual position on a tight-knit, globally based team. All work will be done remotely via your home office or work space of choice.
Author: Noemi Tasarra-Twigg
Editor of Splashpress Media, writer, and geek bitten by the travel bug.