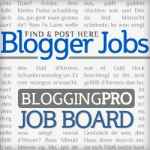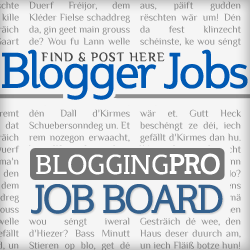 How's everyone doing this Friday? You probably heard about the devastation that typhoon Haiyan has wrought on certain parts of the Philippines. Around a week has passed, but countless people still need the most basic of necessities, not to mention the long road of rebuilding ahead of them. If you want to give them a hand, please take a bit of time to see how you can donate.
An established blog network is looking for a couple of bloggers who can write about general tech , blogging, social media, and freelance writing. If you have a lot of general knowledge, and you keep yourself updated on the tech and blogging scene, this telecommute job is waiting for you!

CompanyNewsletters.com, a growing newsletter-publishing company, seeks an experienced freelance business journalist to write newspaper-style articles for high-quality corporate newsletters. You will need to interview article sources over the phone during normal business hours, write stories for customer or employee newsletters, and e-mail us the completed articles.
New York's most epic five-day cocktail party is looking for one fabulously eloquent, painfully pithy young writer to spread the good word of the Manhattan Cocktail Classic via ad and web copy, social media, email blasts and more. You don't need a long resume (or any resume) to impress us, but you will need to dazzle us with both your prosaic pulchritude as well as your ability to turn around copy on a tight deadline, respond to emails quickly and professionally, and generally be a clever person. This job would be ideally suited to an aspiring young writer fresh out of (or possibly still in) school who's looking to bulk up his or her portfolio whilst working on a wickedly cool team.
Lifehack (http://lifehack.org) is a life hacking blog with over 4,000,000 page views per month, and they are looking for an article writer. They assign topics, you do the research and write.
A new startup "The Master Switch" is seeking freelance writers with experience in the field of technology. They will be publishing high quality content and hiring writers that can research and write at the level of a major magazine or newspaper. The work will begin on a project-by-project basis and they hope to develop ongoing relationships with a number of writers.
Author: Noemi Tasarra-Twigg
Editor of Splashpress Media, writer, and geek bitten by the travel bug.