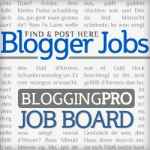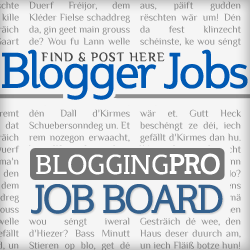 How was the first week of December for you? Are you all done with your Christmas shopping?
If you're more focused on looking for jobs, here are the job board highlights from this week. Good luck!
Blast Analytics & Marketing is an analytics and digital marketing agency that's been in business for 14 years. They are looking for an experienced, passionate, and well-rounded team member who can contribute his expertise in content strategy and optimization, and has an insatiable desire to continually learn, grow and master new skills.

A small niche consulting company that works with hospitals across the country wants to expand their marketing base and are looking for a talented journalist who will write content for the company web site, blog, FB and Twitter sites on a 'as needed' basis.
Curbed is seeking longform and narrative stories from freelance writers and photographers about the topics closest to their heart: architecture and design, real estate, and neighborhoods. They're looking for features that dig deep while also maintaining Curbed's voice.
Art editor wanted to work with BOMB's editorial staff to produce the art section of BOMB Daily, BOMB Magazine's online edition. The art editor will traffic pitches, solicit pieces, and edit work for publication on BOMB's website under the supervision of BOMB's web editor.
Freshplum is looking for bloggers to write on developments in e-commerce, online promotions, technology, and the impact behavioral economics principles can have on online retail. Writers with writing experience in these areas will be given preference.
Author: BloggingPro