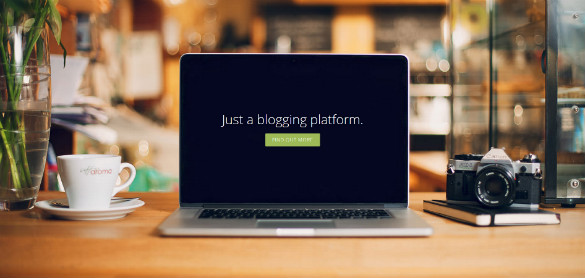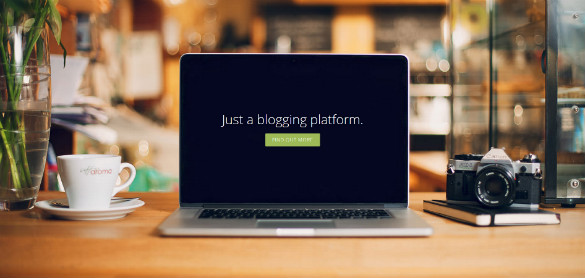 Since blogging became popular on the internet over a decade ago, there's been no end to blogging platforms to help us get our message across to our readers. In recent years though, there's been a clear favorite and that's been WordPress. It's not hard to see why it's been the favorite for so long, after all it's incredibly easy to use and extremely flexible thanks to the myriad of plugins available. While WordPress offers everyone a way to blog, it's not perfect and it hasn't really changed much either. It's offered the same set of features for years now. Familiarity is great, but when it starts to kill your buzz you know it's time for a change.
Ghost is the new platform that's set to make blogging exciting again. It makes our keyboards the principal part of our experience and does away with all of those "buttons". Ghost has been in private beta testing for some time now, but it's now available to all. It's very much something that you should take a look at. After so many years using WordPress, though, you're probably wondering why on earth you should switch to this new and unproven platform? Well, let's take a look at what Ghost is and what it can offer us as bloggers.
With Ghost, Simplicity is Paramount
Real bloggers, the kind of bloggers that care more about keyboards than pretty backgrounds, will know how frustrating it is to stop typing to find a button to insert a bulleted list. These bloggers will no doubt have shortcuts like Alt+Shift+U ingrained in their muscle memory, but it's hardly an easy shortcut to pull on the fly.
Ghost is different in that the keyboard can be used to do pretty much everything in your blog posts. When writing a post in Ghost, the main interface is split into two; pre-rendered markdown text is on the left and rendered HTML on the right. Essentially, you can type all of your formatting on the fly and see it render on the right to get an idea of how it will look. Being able to add your formatting without leaving the keyboard saves an immense amount of time. Also, having it rendered on the right-hand side is great too, because you can easily see if something has gone wrong there and then. It negates the need to go back over a post and fix niggling formatting issues, which are often commonplace in WordPress.
Ghost is For Real Typists and Keyboard Lovers
Keyboards have come a long way in the past decade. You can now purchase a keyboard in whatever size, shape and style you like. Personally, I have a mechanical keyboard on my desk, and I love it. It's this reason Ghost appeals to bloggers like myself, because my keyboard is at the heart of my writing experience and the more time spent connected to it, the better I write. Pausing and fumbling for the mouse or swiping across a touchpad to find a button in the UI is both awkward and can possibly ruin flow. Sure, you can type away and then add formatting later, but that's just tiresome and time consuming.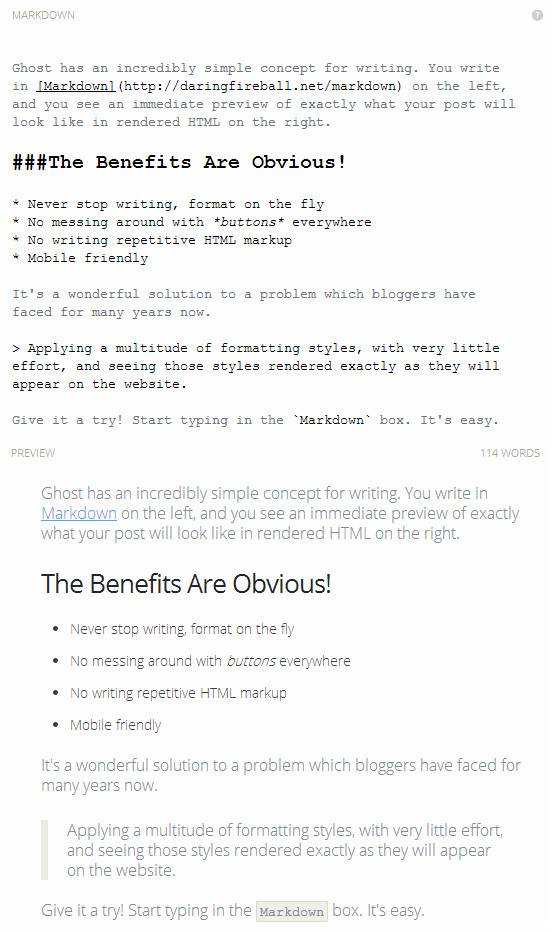 With Ghost, you can carry on typing as much as you want and simply input formatting like bulleted lists with a simple " * " and block quote with a " > ". It certainly sounds like a trivial thing, but when you're typing something important, being able to keep on typing can be the difference between a good blog post and a great blog post.
Your Stats Are Easy to Digest Thanks to The Visual Dashboard
Getting a hold of stats is a real chore when using WordPress or something similar, Ghost aims to simplify all this with their visual dashboard. Instead of the usual boring presentation that goes along with figures such as traffic, social shares and more, Ghost makes a visual feast out of them. All of your numbers and stats are presented in an easy to digest manner, letting you get the important data you need without getting too bogged down in numbers.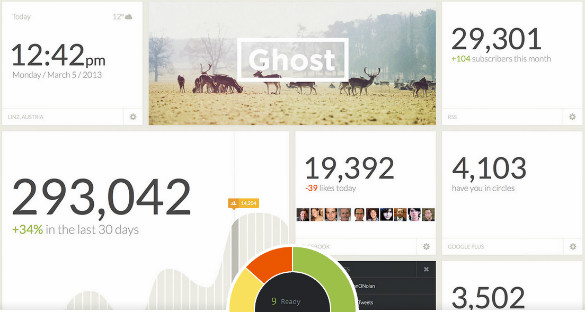 You can tailor the dashboard to exactly how you want it, making it even easier to get the information that you care about. Having to "run the numbers" is a harsh reality of being on the web, but Ghost can make this painful task relatively painless.
It's Open Source and It's Only Going to Get Better
By now, you've probably heard about — and possibly seen — the benefits of Open Source software. Well, Ghost is yet another application that can only get better. Thanks to its Open Source roots, bugs are fixed all the time, new features are implemented quicker and everyone using the platform can benefit from each other. This also means that you can try it out for free, of course maintaining your blog falls to you, so if something goes wrong you should be prepared to fix it.
Ghost is very much a work in progress and it's not even anywhere near reaching its first 1.0 release, but that's what's so exciting about it. There's going to be bugs to sweep up and it might not work as you expect all the time. Ghost is only going to get better and you can be part of that.
Okay, Okay, I'm Sold — How Can I Get It?
As with any blogging platform, it's not that easy to simply get started with Ghost on your own blog. You can sign up for — and maintain — a blog on ghost.org, but if you're looking to use your own server, and your own domain, things get a little more tricky.
Depending on whether you handle your own server, or you have someone do things for you, how you can get Ghost will differ. For those that have full access to their own server and know what they're doing, there are simple guides to follow. However, if you're running a blog hosted by someone else that you need to migrate, or you have a web developer, you may be better off contacting them for assistance.
Adrienne is a freelance writer and avid blogger. She is always learning new things and is eager to share them in her blog posts about everything from travel to internet marketing. Check out her blog Design Roast to see more of her work, or tweet with her at @adrienneerin.