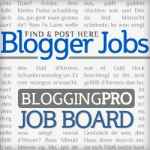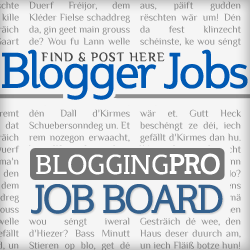 It's the last week before Christmas. Has the craziness gotten to you yet?
Here are the last of the job board highlights before we go on holiday break.
Smartbaking Inc. is looking for a health oriented blogger. To be more specific, a blogger that has great knowledge of food and nutrients, vitamins, minerals etc. The company is a health food manufacturer of a gluten free products. So the blogger needs to know about the Gluten-free industry.

Forensicon seeks a contract writer to assist us with managing online content development initiatives. This is a freelance work from home or wherever you choose opportunity. The right candidate for this opportunity will have an excellent legal writing background and will be adept at reviewing judicial opinions and case law and writing original case summaries regarding case law developments within the areas Forensicon provides services.
A company is looking for writers to create high quality blog content based on web and mobile technology. Topics include areas such as: Latest advancements in web technologies, web and mobile application development, database development, risk management and disaster recovery.
It is a must that you have experience writing for food, wine and restaurant industries to be considered a fit. Fine dining focused writing samples specifically will put you at the top of the list for consideration.