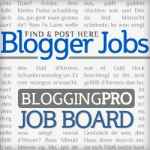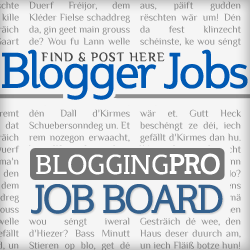 I hope you all had a good week. Here are the job board highlights.
Good luck, and have a happy weekend!
An established live music resource launching a new blog that focuses on live music, music for weddings, and everything relating to live music and weddings wants you. The target audience is brides-to-be. Being married not a requirement!

Whitehaus Media Group is seeking a freelance copy editor to work on Cultured, Bal Harbour, Venice, Ultratravel magazines and other custom print and digital publications. This is a part-time position, based in Miami Beach. Ideal candidates will be wordsmiths with a creative flair who flourish under deadline pressure, work well with others, demonstrate excellent judgment and can prioritize effectively.
FoundHere.com is a new tech company that makes free DIY websites. They need an experienced blogger to take over the writing duties of their existing blog on a part-time contractor basis. The job involves creating 2 posts a week.
Can you write knowledgeably about the IT industry? Can you create content that busy executives can't resist?
Do you have a voice that will stand out from all of the noise on the Internet? Haley Marketing Group is seeking experienced writers who can research and write engaging, relevant and timely blog posts and short articles for clients in the staffing industry.
Do these apply to you?
• Subject matter expertise in economics, aviation, agriculture, or style
• Living, or having lived, in the UK for strong grasp of culture
• Experience training journalistic editors
If so, then you might be the one Amnet is looking for!
Author:
Noemi Tasarra-Twigg
Editor of Splashpress Media, writer, and geek bitten by the travel bug.