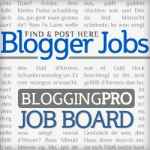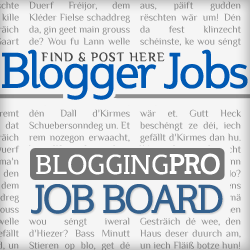 Good morning, everyone!
Here are the job board highlights from this week.
This up and coming blog has focused on education content and is now expanding. They need a new team member for weekly content for the "Variety" category. 1-3, 300-400-word posts weekly are needed. Small pay, but chance to be part of something from the start.

The site features a strong selection of feature articles, interest pieces, and opinion pieces within their content genre. The site is currently lacking in news items and are looking to fill that gap with short posts focused on current news.
An Internet marketing company is seeking to fill an immediate need for a blog project. Writer should be capable of producing 2,000-word articles in the format of a consumer report. They will need to take on the persona of a health expert so articles need to be well-researched, original and authoritative.
Wanted: an original, creative, talented writer with a passionate/opinionated take on gadgets/tech to write for Gadizmo. If you're just another average blogger, no need to apply.
If you write excellently and have a passion for sports, Sporrty wants you to create content to attract new readers and keep them coming back for more.
Author: Noemi Tasarra-Twigg
Editor of Splashpress Media, writer, and geek bitten by the travel bug.