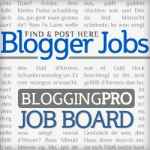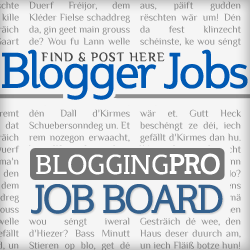 Good morning. Here are the job board highlights from this week's listings.
Have a good weekend!
Sauvage Studio is looking for a freelance copywriter to help with marketing and fashion blog topics.
The candidate must be passionate about fashion, e-commerce and marketing. You will be responsible for writing 1 blog post per week.

TCH is looking for bloggers and technical writers to work on various company projects including consistent updates to our company web hosting blog and to also work with our facebook / twitter presence.
Must be Technical and or have ability to learn the Web Hosting Business.
Writer needed for a long term project. We need 5-10 articles/day ranging from 300-600 words each on average.
This job is best suited for applicants who have interest in technology, computer and cellphone software related stuff.
Do you have what it takes to be a Tech/Gadgets/Entertainment/Internet/Politics or General News writer? If you can write about any of these topics, Gizmorati is looking for you. Your articles will reach a large audience of entrepreneurs, investors and tech enthusiasts.
Telecommute positions for EXPERIENCED FINANCIAL JOURNALISTS who have covered the stocks markets in the US and/or Canada. There are currently 2 openings for the telecommute, work from home (part or full-time) freelance writing positions.
Author: Noemi Tasarra-Twigg
Editor of Splashpress Media, writer, and geek bitten by the travel bug.